If you're interested in the largest video screens in the United States, there are plenty of places to check out. Here are a few of the largest venues in the country, including TIAA Bank Field, New York Marriott Marquis, and Resorts World Las Vegas. The list will continue with some examples of large screens in the USA. The next time you're planning a trip, consider checking out some of these places for your next big event.
You may also like: Top 9 Largest Clock Faces in the United States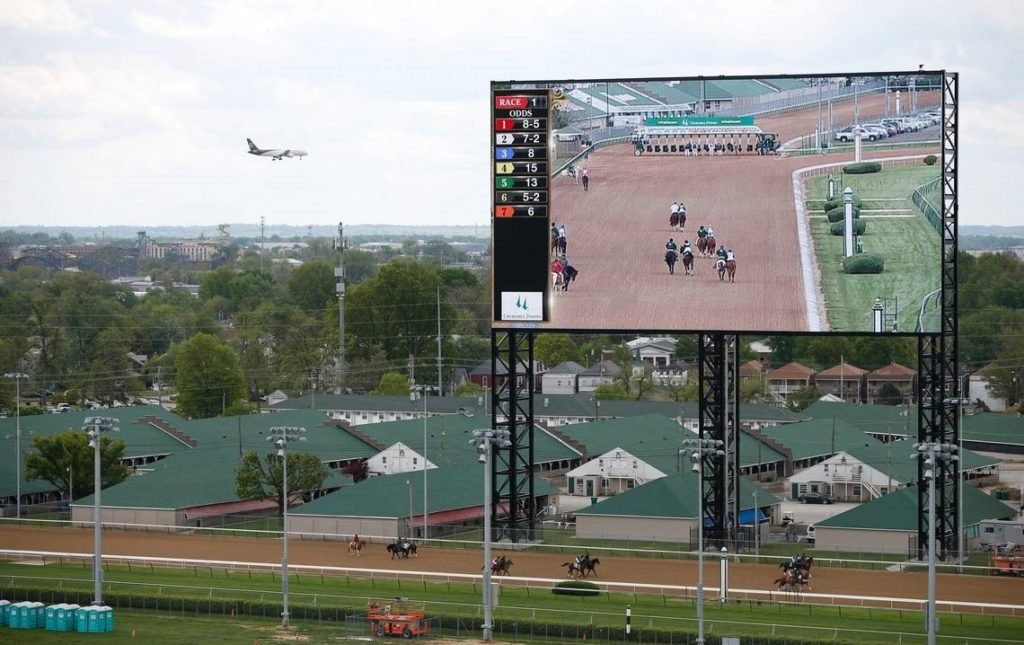 8. Churchill Downs
Dimensions: 52 by 27
Size: 15,300
Display Type: Traditional
Provider: Panasonic
The massive video board at Churchill Downs is also one of the biggest in the country and a sight to behold, even from downtown Louisville, Kentucky. It's impossible to describe how huge the screen is, as it stretches 15300 square feet and rises 170 feet above the racetrack. The video screen is not the only thing that attracts racing fans. Besides hosting a major event such as the Breeders' Cup, Churchill Downs is home to numerous stakes races.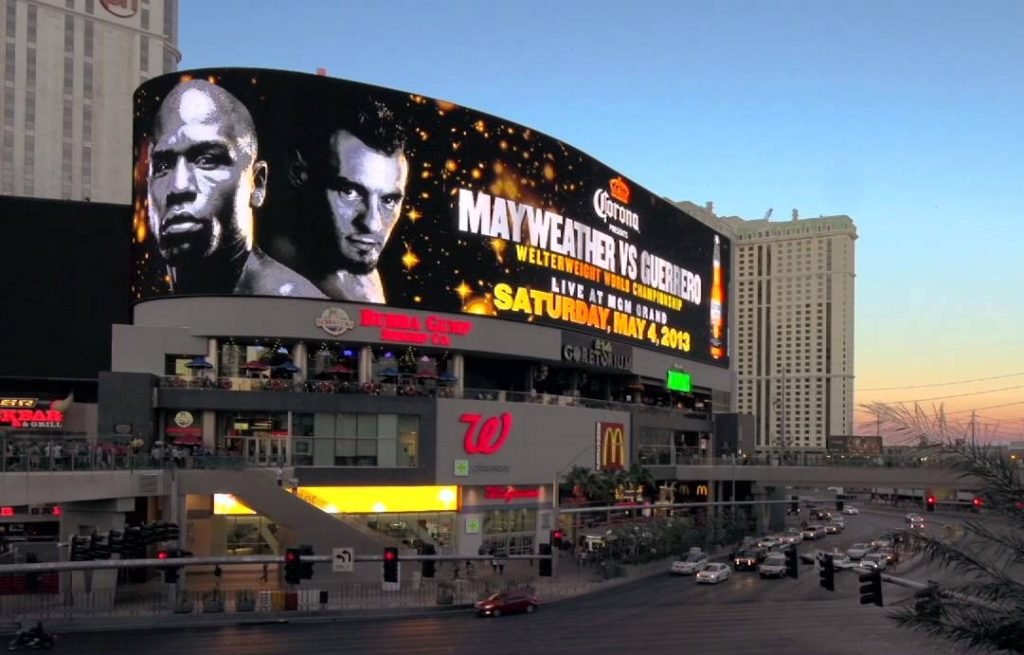 7. Harmon Corner
Dimensions: 93 by 18
Size: 18,360
Display Type: Traditional
Provider: Prismview
The Harmon Corner shopping mall is located on the Las Vegas strip, surrounded by major hotels and casinos. The branded cities network's Harmon Corner Digital Screen is one of the largest continuous full-motion LED video screens in the world. The screen offers an excellent pixel count, making it a far cry from standard television. The ultra-high 5K resolution and energy-efficient design of the Harmon Corner mall's other attractions make it ideal for cutting-edge advertising campaigns. While the display is large, it is not expensive compared to traditional billboards.
See also: Top 14 Largest Office Buildings in the US
6. Palms Casino Resort
Dimensions: 42 by 83
Size: 21,488
Display Type: Transparent
Provider: Yesco
In addition to its movie theaters, Palms Casino Resort is home to a large video screen as well. The lobby has been updated with refreshed wall murals by local graffiti artists. The 73,000square-foot multi-level pool area is also a hit with guests. Other highlights of Palms Casino Resort include a 13-foot tiger shark suspended in formaldehyde and a Damien Hirst sculpture.
5. Texas Motor Speedway
Dimensions: 66.4 by 28.8
Size: 20,622
Display Type: Traditional
Provider: Panasonic
With a nearly half-acre high-definition video board, Texas Motor Speedway offers racegoers an unmatched viewing experience. The Texas track video board is 218 feet wide and 95 feet tall. It covers an area of 21,700 square feet. This video board is sponsored by Panasonic. The screen is nearly twice as big as the AT&T Stadium and Dallas Cowboys' screen. Despite the size, the new video board is not only impressive, but it will also attract the largest crowds.
See also: 7 Largest Domes in the United States of America
4. TIAA Bank Field
Dimensions: 110 by 18
Size: 21,700
Display Type: Traditional
Provider: Daktronics
The video boards at TIAA Bank Field are among the largest in the country, measuring a football field's width and sixty feet in height. They're located high above the end zones, giving fans an elevated view of the game. The stadium's video screens are complemented by an extensive audio system and a giant video screen with HD resolution. TIAA Bank Field is home to the Jaguars, and the Jacksonville Jaguars pride themselves on their storied history.
3. New York Marriott Marquis
Dimensions: 119.7 by 23.7
Size: 25,610
Display Type: Traditional
Provider: Mitsubishi Electric
A variety of recreational amenities are available to guests at the New York Marriott Marquis. The New York Marriott Marquis has always been a hub for excitement in Times Square, but with this new screen, it will be even more so. A video screen is a way to showcase a commercial product. The display was designed by Mitsubishi Electric, a world-renowned studio collective whose work combines technology and moving images to create a new type of design.
Its on-site restaurants and bars provide a variety of dining options for guests. The hotel's nightlife includes several clubs and bars, and its vending machines offer light snacks and beverages. The hotel also offers one of the largest video screens in the United States.
See also: Top 10 Largest Hotels in the United States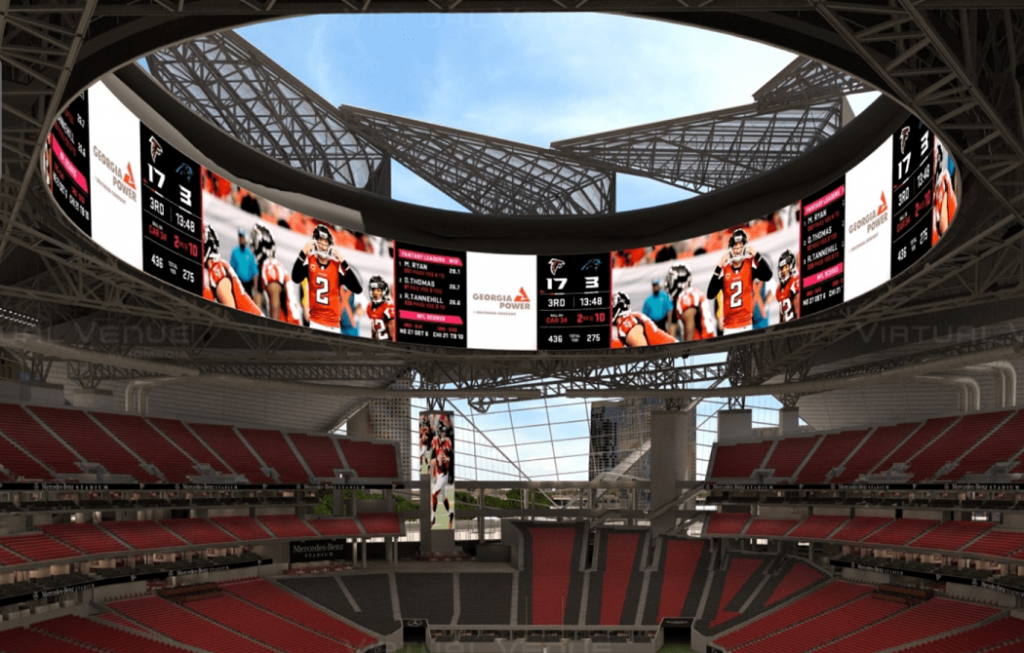 2. Mercedes-Benz Stadium
Dimensions: 328 by 18
Size: 62,350
Display Type: Transparent
Provider: Daktronics
The Mercedes-Benz Stadium is home to one of the nation's biggest video screens. Despite its enormous size, the video board is not the largest in the world. Daktronics, a global leader in the video display industry, is credited with the design. Its goal is to create a truly spectacular experience for fans.
The screen's construction was an incredible feat, but fortunately, the videoboard's design was created four years before the stadium's groundbreaking ceremony. The display's 62,350-square-foot size was a major achievement, resulting in the largest video display in North American sports. Daktronics, based in Ottawa, Canada, worked with the project's design team to ensure the ultimate visual experience.
1.   Resorts World Las Vegas
Dimensions: 145 x 140
Size: 15016
Display Type: Transparent
Provider: Yaham
The 5,000-seat immersive theater at Resorts World Las Vegas is a showcase for AV integration. The theater was designed by Sceno Plus, a Montreal-based theatre design firm. The massive screen is 475 feet tall and 161,636 sq feet and was built over seven months. It is just one of several LED screens on the entire property. The screen measures approximately 5,000 square feet and uses LED panels as projectors.