What is WWOOF?
WWOOF stands for World Wide Opportunities on Organic Farms. The WWOOF USA is part of a worldwide network of organizations that aim to facilitate sustainable living and agriculture. WWOOF started working as one of the world's first educational and cultural exchange programs in 1971 in the UK. At present, the network has expanded its branches in more than 130 countries around the world and still growing.
Since 2001, WWOOF USA is serving as a work exchange network that allows people to learn about organic farming, food, and culture by working as a volunteer at their hosts' agricultural land. Volunteers provide a helping hand to the hosts.
WWOOF USA's Mission
WWOOF USA's mission is to create a link between the visitors (volunteers) and organic farmers. This will promote cultural and educational exchange and build a global network that is aware of ecological farming and sustainability practices.
Goals of WWOOF USA
WWOOF USA aims to offer people, from all around the world, the chance to:
Attain practical skills in organic farming
Serve as a helping hand working as WWOOFers
Understand the rural life in the USA
Be a part of the cultural exchange process.
Explore organic farming in different parts of the world.
How to Join WWOOF USA?
You can be a part of WWOOF USA in two ways:
Be a WWOOFer
Be a WWOOF Host
WWOOFer
WWOOFer in the USA provide their services as a volunteer and help hosts in many different farming tasks. Some of these tasks include gardening, making compost, animal care, woodcutting, and assisting in eco-construction activities.
WWOOFer gets the opportunity to learn about different types of organic agriculture and sustainable living practices by working with different hosts. They develop different skills along the way. They don't receive any money from the host for their efforts. But, the host offers daily food and accommodation for WWOOFers.
What do you need to be a WWOOFer?
You can join WWOOF USA as a WWOOFer if you;
Have an interest and passion for organic farming and sustainable living.
Want to learn and contribute to the sustainable agriculture movement.
Eager to show your full potential in the physical demands associated with farming.
Want to experience the actual American lifestyle and meet people of various cultures and backgrounds.
WWOOFers must have average physical fitness for better performance during WWOOFing tasks.
How to sign up as a WWOOFer?
Follow these steps below to be a WWOOFer:
Go to the official website of WWOOF USA.
On the homepage, you'll find the option "Sign up as a WWOOFer". Click on it.
You'll be directed to a new webpage, where you can be a WWOOFer in 3 simple steps.
First, fill the WWOOFer registration form.
Then create your account as a WWOOFer. Enter your details and create a unique profile that tells hosts everything about you.
In the host profile, you'll have to enter details about your farm, property, location, lifestyle, and WWOOFer responsibilities as well. This allows you to find the perfect host for your tasks.
WWOOFer Membership
A one-year membership plan helps you to connect to 1743 WWOOF hosts from all around the USA. You can choose a single ($40) or joint ($65) membership plan. WWOOFer membership provides you a member profile as a WWOOFer, access to an online host directory, online messaging, and booking tools to initiate your journey as a WWOOFer.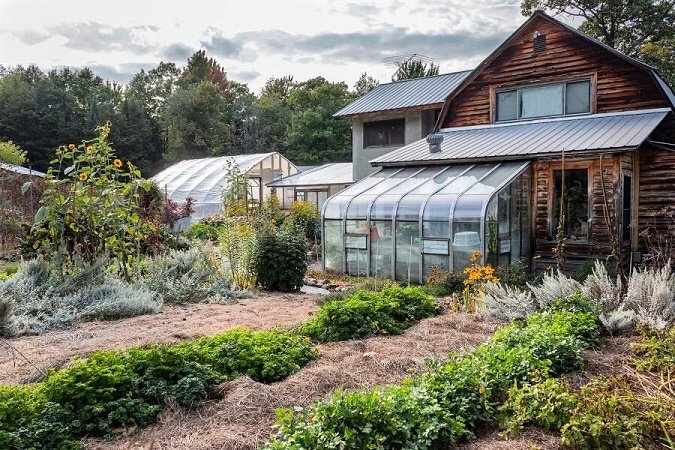 WWOOF Hosts
WWOOF Hosts are people who are farming or gardening organically and are will to share their knowledge about sustainable growing methods and lifestyle practices. Hosts help the WWOOFers by providing them tasks from which they can learn about organic farming. The WWOOF USA currently has 1743 active hosts.
What do you need to be a WWOOF Host?
You can be a great WWOOF Host if you:
Willing to provide a good meal and accommodation to the visitors (volunteers).
Love to share your knowledge about organic farming and sustainable living methods.
Know that hosts and WWOOFers are work on basis of trust and respect.
Have tasks that can ask help for from WWOOFers.
How to sign up as a WWOOF Host?
To be a WWOOF host, follow the steps below:
Go to the official website of WWOOF USA.
From the homepage, click on "Sign Up as a WWOOF Host".
Then complete the Host registration form.
Create your account by providing your details.
After this, you'll be able to connect with WWOOFers.
WWOOF Host Membership
A membership plan of $20-$50 allows you to be on the WWOOF USA Hosts' list for one year.
WWOOFing Tasks
While signing up as a WWOOFer, keep in mind that you'll not use pesticides and other chemicals because the WWOOF USA aims to promote sustainable organic farming practices. Here are some of the tasks that your host may assign you:
Gardening
Plantation
Animal care
Harvesting
Making compost etc.
The WWOOFing tasks vary from host to host.
FoWO
FoWO is an abbreviation for the Federation of WWOOF Organizations. It was established in 2012 and aims to connect the national WWOOF groups for working in collaboration worldwide. It is actively working for uniting, promoting, protecting, and support WWOOF movement all around the world.