Want to have the sight of some natural beauty, feel the fresh air, or smell the flowers' fragrance? All of this exquisite warmth can be deemed only on the motherland's forests, Hilly areas, and gardens. While it's not easy for everyone to visit woods, only adventure-loving will go on such thrilling rides. Visiting Hilly areas also seems a bit difficult; one can't go there every other day. Therefore, the best location to relax your nerves is the well-organized gardens. So, keeping all this in mind, we will share the Top 5 most beautiful gardens in the US.
5. Dallas Arboretum and Botanical Garden
Dallas Arboretum and Botanical Garden is a heaven of flowers and their mesmerizing scents. It remains open in all seasons. Hence a mixed variety of flowers and fruits can be seen. Furthermore, if you are visiting Dallas Garden in the spring season, then your eyes will catch the attention of 500,000 Blooming Spring Bulbs. Amazing!
Several other flowers like azaleas and Cherry blossoms create a magnificent view during the blooming season. This park has been awarded the title "One of the Most Breathtaking Gardens in the World."
You may also like: Top 10 Most Beautiful Flowers in the United States
This breathtaking piece of land arranges several activities for its visitors. Similarly, in other seasons like summers, the authorities organize outdoor concerts and musical events. Moreover, the main objective of this hypnotic land is to connect science with students. For this purpose, the authorities manage more than 150 fun ventures – which is pretty impressive.
4. Portland Japanese Garden
Portland Japanese Garden is truly designed according to Japan's Culture. Surprisingly, it's the only Japanese-based Garden outside of Asia. It is believed that these types of lands have a unique link with tranquility. Moreover, the inhabitants of this place have a deep connection with nature. So, their personalities will genuinely share the positive vibes with the visitors.
Many modifications have been made in recent years. For the sake of traveler's peace, Portland Japanese Garden has Tea house, sensational walkways for the individuals to have the proper sight. Moreover, the meandering streams represent a historic part of Japan. Hence, in this Garden, during the walk, you will also witness an eye-catching meandering stream. All of this will drain away the negativity from you and will fill the mind with utmost serenity.
3. Central Park Conservancy Garden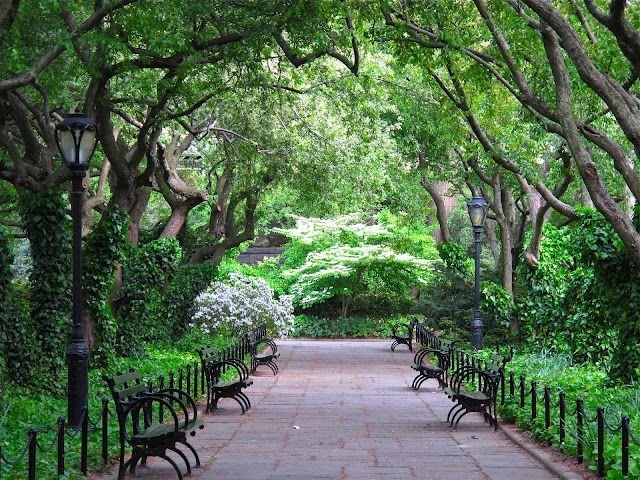 Central Park Conservancy Garden is one of the most beautiful gardens in the US. As in the above picture, one can easily see the mesmerizing and hypnotic view of the spectacular park. Furthermore, this piece of land is always open and has a mini-heaven of delicate flowers. The pleasant aroma of tulips, summer perennials, and lilacs will remove all of your negativity and stress.
See also: 77 Most Beautiful Scenic Places in USA
Furthermore, a beautifully designed fountain is at the center of the garden. It's the most famous Central Park Conservancy Garden place because couples have their wedding photo-shot at this hypnotic spot. This bewildering land comprises three areas; each part has its beauty and unique design.
It's a public park. So, timings are from morning 8 to the 5 in the evening. Moreover, the time varies during the summer and winter seasons.
2. Lewis Ginter Botanical Garden
What an exquisite site!
The runny fountain, exceptionally designed glassy dome, and various flowers will take you on a ride of complete pleasure and tranquility. Lewis Ginter Botanical Garden comprises multiple garden areas. No doubt, all of them have their charm and winsomeness.
Its gigantic park, the whole area covered by this garden is about 50 acres. Furthermore, when blooming arrives, the visitors witnessed the beautiful roses, peonies, daffodils, orchids, and many more. Lewis Ginter Botanical Garden arranges several projects for kids like tips to improve your gardening skills, learning the importance of flowers, etc.
While the weddings and business meetings also take place at this desirable location.
1. United States Botanic Garden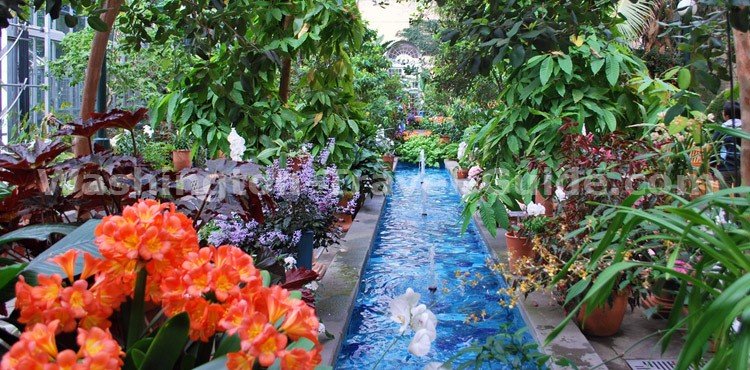 United States Botanic Garden is the most Beautiful Garden in the US. Furthermore, it is also known as one of the oldest gardens in the US. At the same time, there was a primary objective behind constructing this exquisite piece of land.
You may also like: 39 Most Beautiful Waterfalls in the USA
George Washington came with the idea to develop a place where the young nation will learn about the importance of plants. Moreover, this garden serves as a learning institute for gardeners and botanists. Along with holding historical significance, this garden serves as an educational institute and museum.
Final words
I hope you all find it worth reading.