Top 10 highest paid players in the NFL. To play in the NFL requires more than mere talent. It takes discipline determination and outstanding work ethic and pure unfiltered drive.  Just to set foot on a pro football field and if you hope to join the ranks of grates it takes yet more. Football observers call them intangibles and they're the unique set of qualities that make truly great football players great. As the name implies it's tough to put your finger on them but you know them when you see them.
The natural leadership and near undeniable will to win of Brett Favre. The almost unerring play prediction and accuracy of Troy Aikman. The practically superhuman elusiveness of Barry Sanders. The all-time greats play on a slightly different level than the rest of the league and historically they're rewarded with fat paydays. The players we'll be looking at today possessed more than a few of those intangibles. They all could be legends in the making which is why they're currently the highest-paid players in the NFL.
10. Aaron Donald
(22.5 million dollars per year)
The only player on our list who isn't a quarterback. Aaron Donald has been a mainstay in the Los Angeles Rams defensive line since he was drafted by the squad out of Pitt in 2014. During his freshman year, Donald logged time in all of Pitt's games as a reserve tackle. Setting the stage for a breakout sophomore season in which he recorded 64 tackles. Five and a half sacks and one forced fumble on his way to first-team all-big east honors.
His senior season shattered those marks and his acc defensive player of the year award helped the Rams in their decision to draft Donald with a 13th overall pick. Donald took home the NFC defensive player of the year award in 2017, enough to convince the Rams to make him the highest paid defensive player in the league with a six-year 135 million dollar contract worth 22.5 million dollars per year on average.
9. Alex Smith
(23.5 million dollars per year)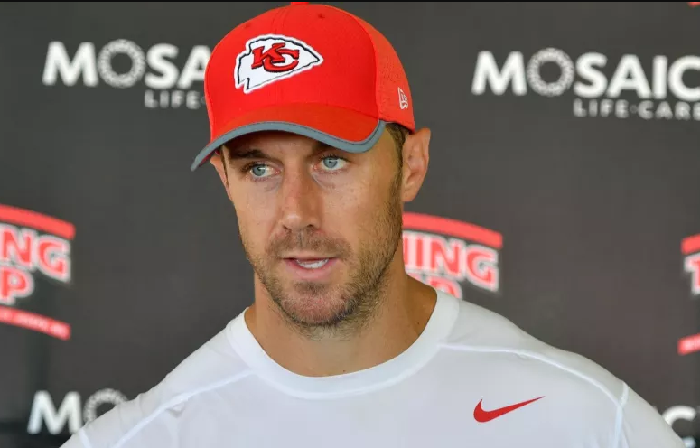 See also: Top 11 Incredible Homes of Richest American Athletes
Washington quarterback Alex Smith is the embodiment of an extremely talented player who seemingly couldn't catch a break. In college, he posted 221 in one record as a starter in three seasons at Utah, enough for the 49ers to gamble on him and pass on Aaron Rodgers with the first overall pick in the 2005 draft. In seven seasons with San Francisco Smith constituted one of that club's few bright spots. While struggling to find a groove under it friend offensive coordinator for each of his first five seasons.
In 2013 Smith left San Francisco for the Kansas city chiefs via free agency and there he finally flourished in a more consistent offensive scheme. He led Kansas City to the playoffs in fourth his five seasons but the chiefs convinced they had their quarterback of the future. In 2017 first-round pick Patrick Mahomes worked out a trade with Washington in early 2018. The team demonstrated their faith in Smith by rewarding him with a four-year 94 million dollar contract with an average of 23.5 million dollars per year.
8. Drew Brees
(24 million dollars per year)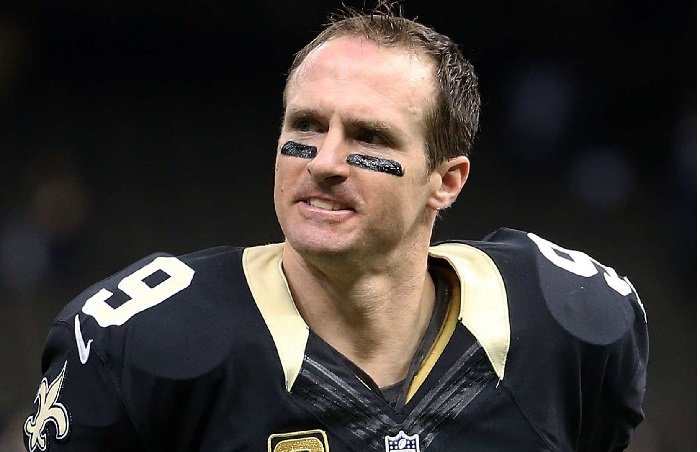 Drew Brees among many players on this list who could easily be one day considered among the greatest to ever play. He enjoyed a stellar college career at Purdue but at only six feet tall. NFL clubs had concerns about his ability to adapt to the pro game, as a result, he wasn't drafted with the first overall pick or even in the first round. In fact, he wasn't even the first quarterback taken by the chargers in the 2001 draft. That would be Michael Vick as brees fell to the first pick of the second round. It's safe to say that he's proved the doubters profoundly wrong.
In 17 seasons Brees has made the pro bowl 11 times been named NFL offensive player of the year twice and won two super bowls among numerous other accolades and achievements. As at the end of the 2017 season he holds NFL records for career completions, single-season completions, career completion percentage, single-season completion percentage, touchdown passes in one game, and consecutive games with a touchdown pass. He may be getting on in the years but he's still at the top of his game and New Orleans wants him to retire a Sankt. They extended the Brees contract in 2018 to the tune of 24 million dollars per year for two years.
7. Andrew Luck
(24.4 million dollars per year)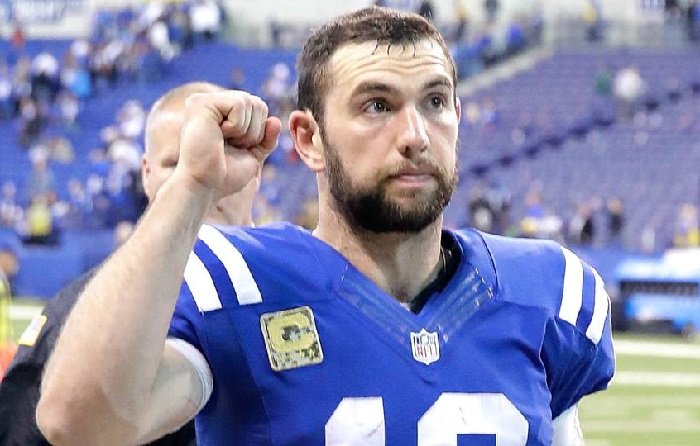 His name may offer no shortage of opportunities for punt making but Andrew Luck's leadership skills determination and frightening accuracy made him the natural successor to the legendary Peyton Manning in Indianapolis. Luck established himself early as one of the top college players in the nation. While helping to transform the Stanford Cardinals lackluster football program and his stats and intangibles made him an easy choice for indy to select first overall in the 2012 draft. A position the team was only in due to Manning's missing the entire 2011 season with a broken collarbone as a rookie.
Luck instantly reversed the Colts fortunes by bringing them from 2 and 14 laughingstocks the season before to an 11 and 5 mark and a trip to the playoffs. He's had a few issues with injuries in the year since but in his six seasons with the colts he's been to three pro bowls led the league in passing in 2014 and amassed a 43 and 27 record as a start. Luck 2016 contract worth 140 million dollars over six years. For a 24.4 million yearly average made him at the time the highest-paid player in the league. But in just over two years since several more players have claimed that title.
6. Derek Carr
(25 million dollars per year)
Derek Carr is the younger brother of former NFL quarterback David Carr. Like his brother, Derek attended Fresno State. He capped off his senior season there with a five-thousand 83-yard fifty touchdown performance which earned him the Sammy Baugh trophy for the top college passer in the nation. But was slightly overlooked in the draft. Carr quickly established himself as the kind of deep passer. The Raiders have historically covenant and once Oakland knew they had a dependable passer capable of dropping deep dives, they moved to lock him up in 2017. Carr signed a five-year 125 million dollar deal which averages out to 25 million dollars per year.
5. Matthew Stafford
(26.5 million dollars per year)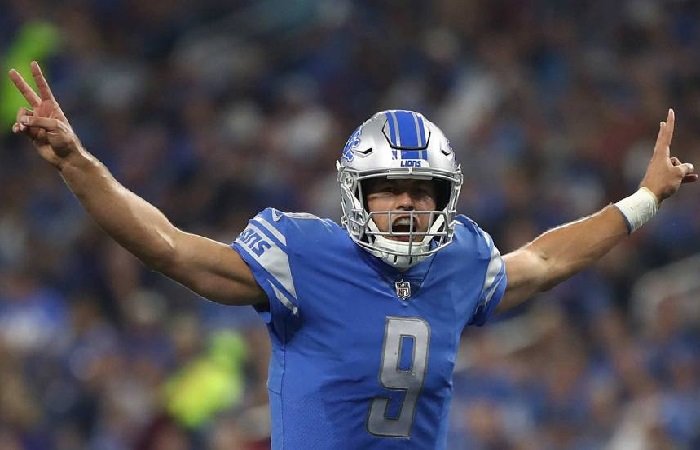 See also: Highest Paid Athletes of America
Speaking of masters of the deep ball Detroit's Matthew Stafford has given the lines a consistency at the quarterback position they were sorely lacking for literally decades. A three-year starter for the Georgia Bulldogs. Stafford won offensive MVP honors in two separate bowl games while recording an astonishing 7730 one passing yards and 51 touchdowns. When he left college a year early to enter the NFL draft in 2008, the Lions selected him with the first pick. Making a profit out of draft guru Mel Kiper who had predicted Stafford would go first.
Overall when the pastor was a college sophomore. In eight seasons with Detroit, he is a master ridiculous number of NFL records including the fastest player to reach 30,000 yards. Most consecutive games with 350 or more yards passing and most fourth-quarter comebacks and game-winning drives in a season. In the same season 2016, he's led the formerly hapless Lions to three playoff appearances gone to the pro bowl and was even named NFL comeback player of the year in 2011. His Lion's contract signed in 2017 is worth 135 million dollars over five years a 26.5million per year average.
4. Kirk Cousins
(28 million dollars per year)
Kirk Cousins didn't have the most distinguished college career. Although as a Michigan state spartan he did his school proud by posting an undefeated four Annelle record versus the rival Michigan Wolverines and defeating the Georgia Bulldogs in the 2012 outback bowl. He was selected by Washington in the fourth round of the 2012 draft as an insurance policy for Robert Griffin third whom they had already picked second. Overall Griffin struggled in his rookie campaign and in 2013 then-coach Mike Shanahan made the decision to name cousins the full-time starter.
Cousins initially struggled with Shanahan vacillating between him and Griffin as the mood struck him. But flourished when Griffin missed the 2015 season with an injury and was released by the team in 2016. Cousins led Washington to a playoff appearance and set several teams passing records before leaving via free agency to Minnesota at the conclusion of the 2017 season. In 2018 the Vikings awarded him a 3-year contract worth 84 million dollars or 28 million dollars per year. On average making him the first but not last player of the year to land the richest contract in league history.
3. Matt Ryan
(30 million dollars per year)
Matt Ryan the man known affectionately defends as Mattie ice. Enjoyed an exceptional career at Boston College before being selected by the Atlanta Falcons with the third overall pick of the 2008 draft. No stranger to big contracts Ryan's rookie deal made him the fourth-highest-paid quarterback in the league before he even played a single down. But his falcon's fans know every dime Mattie ice has ever earned has been money well spent. In ten seasons with Atlanta, Ryan has guided the team to the playoffs six times and the super bowl once.
While going to four pro bowls and taking home an offensive player of the year and an NFL MVP award. His stellar stats speak for themselves and whatever they don't say his nickname does. Ryan is as cool and deadly accurate under pressure as any quarterback to ever play the game. In may 2018 he landed a five-year 150 million dollar contract making him the first player ever to average 30 million dollars per year.
2. Aaron Rodgers
(33.5 million dollars per year)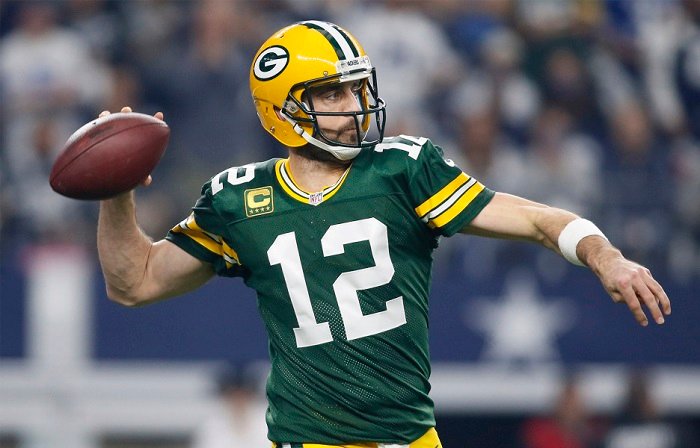 It may seem impossible to single out one player is the greatest player to ever play the game. But allow us to present the case for why this is not so. Green Bay Packers quarterback Aaron Rodgers yes that's the entire case. When it comes to knowledge of the game. Leadership. Physical ability. And an uncanny knack for making throws would simply seem impossible. Rodgers has few true peers. Amazingly he began his college career at tiny Butte community college in Oroville California. Before transferring to cal as a junior and posting impressive numbers. He was drafted 24th overall by the green bay and spent three full seasons riding the bench and learning the pro game behind the legendary Brett Favre.
Upon Favre's departure, Rodgers transitioned the starter wasn't exactly seamless. During his first campaign, he went 157 passes without an interception but an offensive shake-up resulted in a 6 and 10 losing season. It would be the last season in which Rodgers and the Packers failed to make the playoffs. As the quarterback has since established a standard of excellence laughs only matched by New England's Tom Brady. He's won two NFL MVPs and two super bowls been to the pro bowl six times and boasts an insane 103.8 passer rating on his career and barring unforeseen circumstances. He signed a four-year extension worth 134 million dollars an astounding 33.5 million per year.
1. Jimmy Garoppolo
(37 million dollars per year)
Jimmy Garoppolo the man fans simply called jimmy g has had a similar early career trajectory to Rodgers. Playing college ball for division 1 Eastern Illinois before being drafted by the Patriots in the second round of the 2014 draft. To sit behind Brady in three seasons with the Patriots he saw limited playing time. But holding a clipboard behind a legend has its advantages. He acquitted himself well enough and his few appearances to be the subject of intense trade speculation during a quarterback start free agency period.
And on Halloween 2017 the Patriots traded jimmy g to the San Francisco 49ers in exchange for a second-round draft pick. The trade paid immediate dividends for San Francisco as Garoppolo helped the Niners win six of their last seven games in what otherwise may have been a totally lost season. Although San Francisco failed to make the playoffs. They had seen enough to be convinced that they had their QB of the future. In 2018 Garoppolo signed a five-year 137.5 million dollar contract worth a startling 37 million dollars annually. He's currently the highest-paid player in all of football.