Top 11 Incredible Homes of Richest American Athletes. World class athletes are considered to be some of the highest-paid people in the world. Wouldn't you see where they live? Well, we've got your back because this post is going to take you behind the walls of the top 15 most unbelievable homes owned by famous athletes.
11. Floyd Mayweather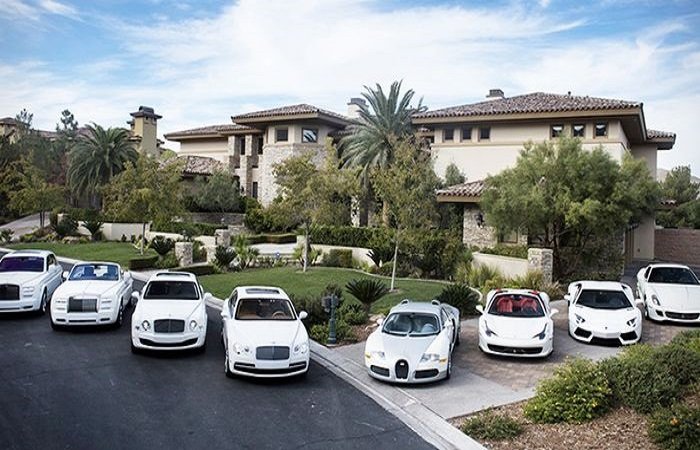 Floyd Mayweather is famously known as one of the top boxing champions in recent history. Before retiring in 2015 he held multiple world titles in five different weight classes. He ended his career as undefeated holding a record of 50-0, the second highest streak next to Ricardo Lopez undefeated Mexican boxer.  All of that Fame and acclaim has earned Mayweather some serious swag in the form of a 3.4 million dollar mansion tucked away in the modest Hills of Las Vegas. Upon arrival to Mayweather's Vegas getaway, you'll find not one or not two but nine white sports cars parked out front which together are valued at just over 15 million dollars.
See also: Cities with Best Sports Fans in the US
He's also got some pretty dramatic taste. The walls of his Vegas mansion are draped in red silk in a textured glass with crystal chandeliers hanging throughout. You'll find all kinds of cool features in Mayweather's mansion including a two-story movie theater, a touch screen video game station, a 12-person shower, a 600 square feet walk-in closet, and a giant wood-burning fireplace. You know what they say in Vegas go big or go to Floyd Mayweather's house.
10. Kobe Bryant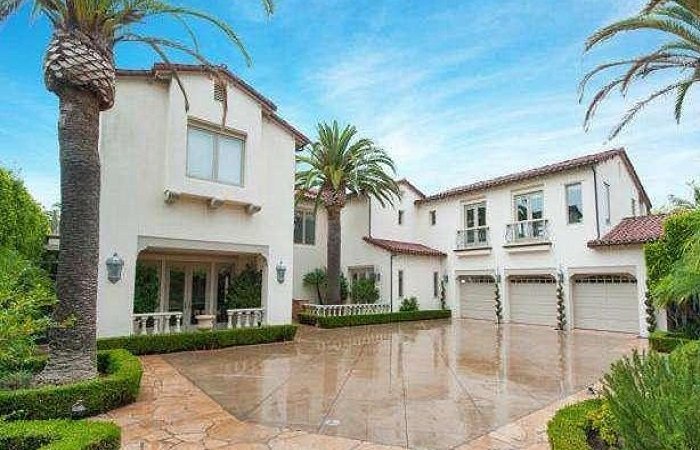 Lakers player Kobe Bryant is the definition of an all-star. He currently holds the record for the most seasons played with one franchise, the LA Lakers. In 1997 Kobe won the NBA slam dunk contest and was named an all-star. By the time he reached his second season in the league. When he isn't dunking Kobe likes to hang out at his home in Newport Beach. Which is complete with a hair salon and 850 square-feet Gym. A private home theater which features Stadium level seating and a wet bar. Kobe also has his own pool overlooking the ocean. Other backyard features include a waterfall, a fire pit, and an outdoor kitchen. One of the coolest and most unique aspects of Kobe's home is the shark.
9. Lebron James
Lebron James has been in the game for a long time 15 years to be exact and at 33 he's still going strong. James is considered by some to be one of the greatest basketball players of all time. He won four MVP awards, two Olympic gold medals, and three all-star game MVP awards. Lebron has taken full advantage of his high paying career and has purchased not one but two mansions in two different states.
His first purchase was a 15 million dollar mansion in Miami overlooking the skåne Bay in Coconut Grove. This summary home comes equipped with a wine cellar, infinity pool, home theater, and rooftop deck. When LeBron gets bored of the beach life he just zips over to his nineteen room mega-home in Akron Ohio. Which spreads to about 30,000 square feet. The Ohio abode has a myriad of cool features including a sports bar, aquarium, barber shop, and a two-story walk-in closet.
8. Pete Sampras
Pete Sampras is one of the most decorated tennis players in the world. Between his Wimbledon wins and legendary victory over Andre Agassi in the 2002 US Open, he's carved a name out for himself in the professional tennis arena. He's technically retired. Pete still likes to slap the ball around at his 19 million dollar mansion in the lake Sherwood California. This 13,000 square feet home features seven bedrooms, ten bathrooms, a gourmet kitchen and a 2,000 square feet home Jim. The design is highly modern with teak white oak and angular wood throughout. Sampras is also invested in some bonus features like a baby grand piano, a wood panel bathtub, an outdoor barbecue center, an infinity pool and yes there's a tennis court.
7. Barry Bonds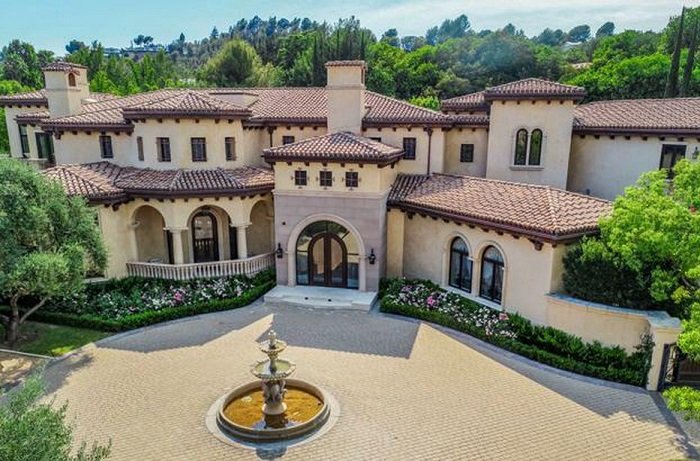 Barry Bonds is one of the most beloved baseball players in history. Now retired baseball maven has raked in a ton of acclaim including seven MVP awards and 14 all-star selections. He's considered to be among the top hitters in the game. He is ranked second in career wins against all other players except Babe Ruth. Post-retirement has been good to Barry, especially since he gets suspended in his 17,000 square foot Italian style villa in Los Angeles worth over 25 million.
The baseball stars home has seven bedrooms, 13 bathrooms, a 12 seat theater, a pool, a Jacuzzi and an outdoor kitchen. The lot itself covers 1.85 acres of land and includes a 2,100 square feet sports court. The interior is visually stunning with an old-world Flair. Vintage chandeliers and Victorian style furniture can be found throughout the home. Some luxurious extras like a saltwater fish tank, a European-style fountain, a three-car garage, a billiards room, and a home gym.
6. Randy Johnson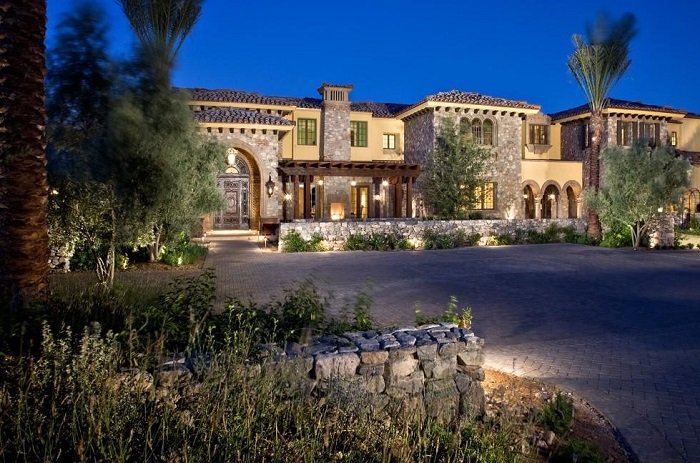 Famously nicknamed the Big Unit, baseball star Randy Johnson has found his place in Major League history. He's played for six teams over his 20-year career including the Seattle Mariners, in the Arizona Diamondbacks. He is considered to have pitched the most strikeouts ever by a left-hander.  In turn, he received a pretty impressive salary. So what does a pitcher with 4875 strikeouts spend his money on? Yes, a twenty-five million dollar mansion of course. The Big Unit 25,000 square foot Arizona home has all the amenities you could ask for. It includes a temperature-controlled wine cellar, a wood-burning pizza oven, a poker room, a fireman's pole, a recording studio and a movie theater with a real ticket booth. Johnson also has a home gym that's the size of a small house.
5. Michael Jordan
Michael Jordan is one of the greatest basketball players of all time period. He can bet he's got a home to match staying true to his Chicago roots. Michael lives in the 56,000 square feet mansion in the Windy City. Atop almost seven acres of land. The home was bought by the basketball star for 29 million. It has dropped in price due to the high amount of personal customizations he's made to the property. You can find everything from a golf course, a full-size basketball court, a tennis court and infinity pool with its own Island, a fish pond, the original doors from the Playboy Mansion, a full-size gym, a piano room, a cigar room, and a wine cellar. The mansions got nine bedrooms and 19 bathrooms that's insane.
4. Joe Montana
Joe Montana also was known as Joe Cool on the football world. He served as quarterback for both the San Francisco 49ers and the Kansas City Chiefs. Montana's got four Super Bowl wins under his belt. He was the first NFL player to be named MVP three times. He also holds the record for the most passes without interceptions 122 in four games. Now the Joe's retired and he's got all the time in the world to throw the old pigskin around at his 35 million dollar home in San Francisco's Marina district. It took Montana and his wife Jennifer five years to find this gem.
See also: Highest Paid Athletes of America
They've spent millions of dollars on renovations to turn this Villa style mansion into the home of their dreams and it was so worth it. The kitchen island was imported from Italy and features fine dark green marble. In the great room, you'll find an enormous painting of the Montana family crest. It was commissioned by Montana to an artist in the South of France. He's also got a thing for horses but lots a horse when you can have seventeen. They keep their stallions in an equestrian center near the house which is under 24-hour video surveillance. You can also find a basketball court, a swimming pool, a man-made Beach and a shooting range on the property.
3. Alex Rodriguez
Alex Rodriguez is one of the most well-known faces of Major League Baseball. He spent 22 seasons playing shortstop in third-base for the Seattle Mariners, the Texas Rangers, and the New York Yankees. He's a 14-time all-star and has won three MVP awards along with two Gold Glove awards, he's also the holder of the grand slam record at 25. At the end of his baseball career, he likes to take it easy at his mansion in Coral Gables Florida. His 38 million dollar home has been featured in many magazines including Architectural Digest and Town & Country. Everywhere you look you'll find something interesting. The living room features blackened steel paneled walls and the bar room has a cross-section TV screen for watching the big game. You can find pieces of art by famous painters like Basquiat and Warhol throughout the house. There's also a home theater and wet edge pool.
2. Tom Brady
Footballs Golden Boy Tom Brady is easily one of the most beloved quarterbacks of all time. He's one of two players to have ever won five Super Bowls. He has been honored with four MVP awards for leading the New England Patriots to victory. Money is not an issue for Brady so when he bought his Boston Massachusetts mansion for 44 million he barely blinked twice.
See also: Top 5 Highest Paid American Female Athletes
The home is situated in Brookline just on the outskirts of Boston. The mansion has its own staff quarters where his personal chef and other personnel live. Brady's got a wine cellar, a giant Sun Room, a library and a gym to keep him in tip-top shape in the offseason. The decor is simply stunning with a huge marble island in the kitchen. A huge backyard for the kids to play in and a barn that's just a few steps away from the house. You could definitely say this football star is living large though.
1. Tiger Woods
When you think golf you can't help but think Tiger Woods. This PGA Player of the Year is one of the highest paid athletes in the world. He's put that money to good use and bought himself a nice humble home, a 9,000 square foot mansion on a private island in Florida to be exact. The house was originally bought for him and his wife at 40 million dollars. The house is now worth 65 million, one of the most expensive homes in the area. You can still find Tiger hanging out at his Jupiter Island home now which boasts a four-hole golf course that the pro golfer designed himself. It also has a tennis court, an oxygen therapy room, fitness center, lap pool, wine cellar, and elevator.