10 Most Expensive Mansions of NFL Players. Have you ever wondered what it's like to live like a famous NFL player, well wonder no more, because we've laid out the top 10 most expensive homes owned by NFL players and we gotta admit we're battling some jealous fives right now check it out.
Tom Brady
Tom Brady is one of the greatest quarterbacks in our recent football history, possibly of all time. It's no surprise that he's got an awesome house to match his awesome reputation. Brady's California mansion is nestled in the rolling hills of the Brentwood region in Los Angeles. The New England Patriots quarterback lives on the property with his wife runway superstar Gisele Bundchen and their kids Vivian and Betty. The 20 million dollar mansion is huge and we don't say that lightly. Sprawling to over 22,000 square feet. It was even featured in Architectural Digest due to its attractive design and unique layout.
There are eight bedrooms, a six-car garage, a lagoon-shaped swimming pool, a home spa, an elevator, a weight room, a wine cellar, and a koi pond moat that can be seen upon entering the property. The huge home is also surprisingly eco-friendly despite its large presence. The couple had the house outfitted with solar panels energy-efficient appliances and environmentally-friendly building materials. Their commitment to sustainability doesn't stop there though. They also have a chicken coop and garden which they've dubbed their micro-farm. Gisele says, she likes teaching her kids about growing their own food and living off the land. We swear this place is like a little slice of the country right in the middle of LA.
Adrian Peterson
See also: Top 10 Highest Paid Players in the NFL
World-famous running back Adrian Peterson really hit the real-estate jackpot with his 6.7 million dollar Texas estate. Driving up to the massive compound you'll find a circular driveway with a luxurious looking fountain in the middle welcoming guests to the lavish spot. The main kitchen features a built-in fridge in a massive violin that could easily seat ten people. Take a peek at the backyard and you'll find a raised pool with a barbecue center and swim-up bar for thirsty pool hoppers.
The recreation room completely decked out in billiard style decor with a pool table and would finish bar as well as old fashioned wood paneling on the walls. Beside the rec room is a home movie theater with twinkling star lights just above which almost makes you feel like you're at the drive-in. The mansion comes equipped with six bedrooms, ten and a half bathrooms, a two-story library, a winding staircase, two fireplaces, and not one but two kitchens. I guess when you're a football player you get hungry a lot
Michael Strahan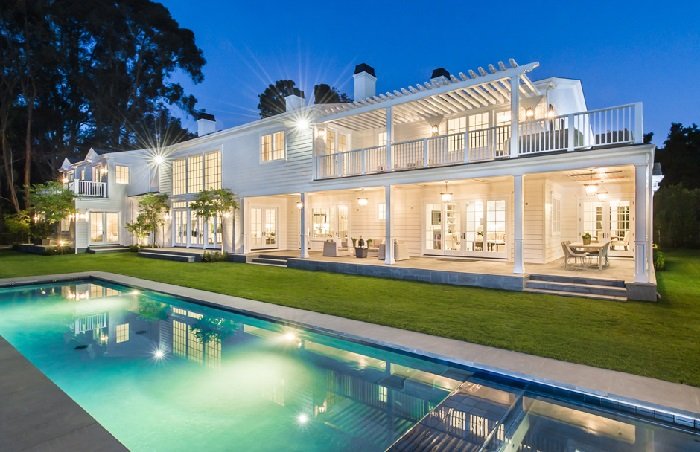 When he's not hosting up a storm on Live with Kelly and Michael. Mike Strahan is taking it easy in his 15600 square feet LA mansion. The former footballer opted for beautiful southern style charm with his 17 million dollar Los Angeles home. The mansion is completely wide aside from the black shutters making it a striking modern architectural statement the interior echoes the stark white exterior with white walls in dark mahogany accents throughout. The home features impressive 20-feet ceilings, nine bedrooms, 14 bathrooms, a chef's kitchen, and butler's pantry.
The lower level includes a home theater with leather seats, popcorn machine, and a 15 feet screen. As well as a billiards room complete with an authentic poker table. You'll also find a prohibition-era style wine cellar/lounge as well as a walk-in safe. On the main level, you'll find a spacious living area with a baby grand piano, a huge marble fireplace, and sleek white furniture. Venture outside and you'll find an inground pool complete with swim up bar, outdoor kitchen and sitting area.
Carson Palmer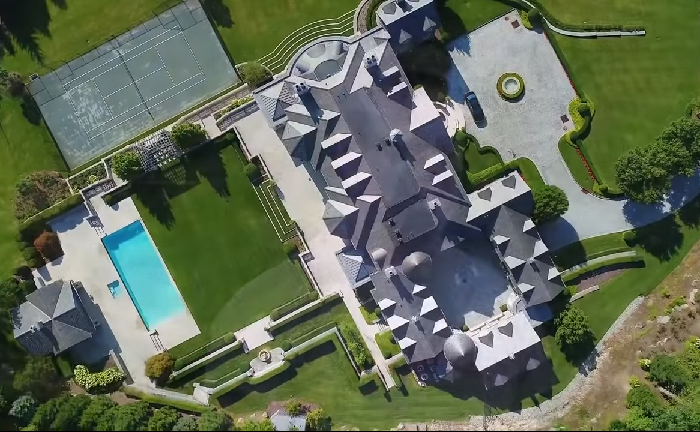 Cardinals quarterback Carson Palmer is living the high life in his California mansion priced at a cool 25 million. The crazy thing about this house is that it was originally purchased by the footballer in 2010 for only 4.4 million. The home has since gone up in price but it'll probably be a long time before Carson sells. With over 8,000 square feet of living space, this Del Mar mansion has everything.
The backyard is impressive all on its own with an infinity pool, bocce ball court, and an outdoor living space complete with big-screen TV and kitchen. As well as a raised jacuzzi that overlooks the skyline sounds like the perfect place to entertain guests. The home gym on the lower level opens to a full-sized tennis court in 10-car heated garage. The interior is also something to boast about with a media room, home office, freestanding tub, and private deck. This place is meant for indoor and outdoor living.
Peyton Manning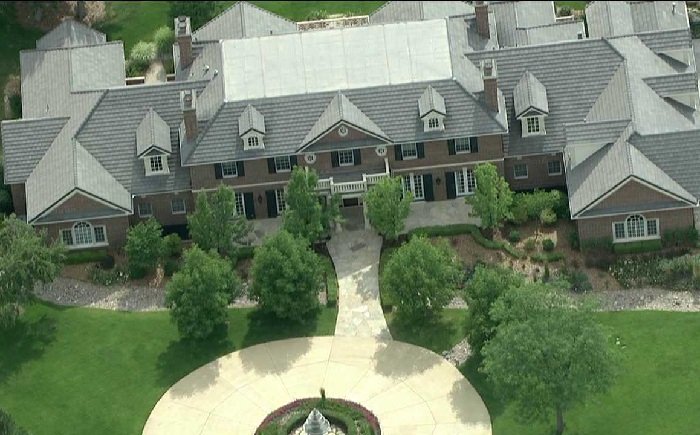 Even if you don't watch football it's almost 100% certain that you've heard of the almighty Peyton Manning. Being a Broncos guy only made sense for the famed quarterback to buy a house in his hometown of Denver Colorado. The home itself is worth over 4.5 million dollars and is nestled just outside of Denver in Cherry Hills Village. The huge estate has seven bedrooms and ten bathrooms. More than enough space for when his football friends stay over. The decor is modern with natural touches like wooden accents and a stone fireplace.
The living room features a baby grand piano, while in the dining room hangs an antique chandelier. The house features many cool extras like a seven-car heated garage, a dog room, a safe room, wine cellar and a billiards room with a pool table. The master bedroom has a closet for the ages with an island in the middle. For folding clothes perhaps there's even a wet bar and refrigerator in there in case you get hungry while deciding what to wear. Peyton clearly has a thing for closets. Surprisingly there isn't a pool. There's a ton of space to put one in if he's so desired.
Russell Wilson
See also: Top 11 Incredible Homes of Richest American Athletes
To say that Seahawks quarterback Russell Wilson's new houses fancy is an understatement. TMZ described it as insane. And considering it was once owned by a Microsoft executive that's really no surprise. Situated in California's Mendon Bauer Bay. This fancy a boat is really something to gawk over. It truly is insane that Russell is living the life of his dreams in a real-life bonafide dream house. The listing agents describe the property is having panoramic views from every room.
Suited only for a world-class buyer. The mansion spans over 10210 square feet. It includes lavish amenities like a kitchen with cupboards handmade by Romanian artists. As well as a 500-year-old hand-carved entryway. The media room comes with huge Tibetan style doors and the wine cellar has space for over 2,000 bottles. Russell is sharing the house right now with his sister. Who's attending the high school nearby. This Mediterranean style home is walking distance to the Children's Hospital where Russell volunteers on spare time. It seems that the location may be the most valuable part.
Reggie Bush
Detroit Lions tailback Reggie Bush would much rather spend his offseason soaking up the Sun in the Hollywood Hills than dodged the heroin streets of Detroit. And after looking at this place we totally don't blame him. Built-in 1953 the contemporary abode boasts a panoramic view of the coastline and surrounding canyons making it a great lookout spot not to mention ideal for entertaining. Bush originally paid 4.7 million dollars for the designer den. But now it's listed at 5.7 million. Inside you'll find floor-to-ceiling glass walls as well as custom wood flooring throughout. Among its most impressive features are the media room, library, movie theater, rooftop deck, and the master suite that spans the entire top floor with an elevator that connects all three levels. Outside you'll find a barbecue center, custom deck, tiered dog run, circular pool, and spa. This house has retro chic written all over it.
Jeff Garcia
Retired NFL quarterback Jeff Garcia is living it up on his Rancho Santa Fe home. Which is now worth just under 8 million dollars. The Mediterranean-style home was built in 1987. And boasts an old-world feel with exposed beams high ceilings and detailed woodwork throughout. It almost feels like you're stepping into a Swiss ski chalet. The home features a huge gourmet kitchen with not one, not two but three ovens. As well as a library, dining room, office, wine cellar, and six fireplaces.
There's an elevator that takes you between the floors. As well as a home gym, steam room, and guest house. The detailing is just immaculate with intricate designs on the wooden railings and kitchen cabinets. Outside you'll find a huge swimming pool with a spa jacuzzi tub and waterfall right next to a villa style covered patio, outside kitchen, and fire pit. It almost feels like you're walking into a lagoon with all the rocks and vines
Kurt Warner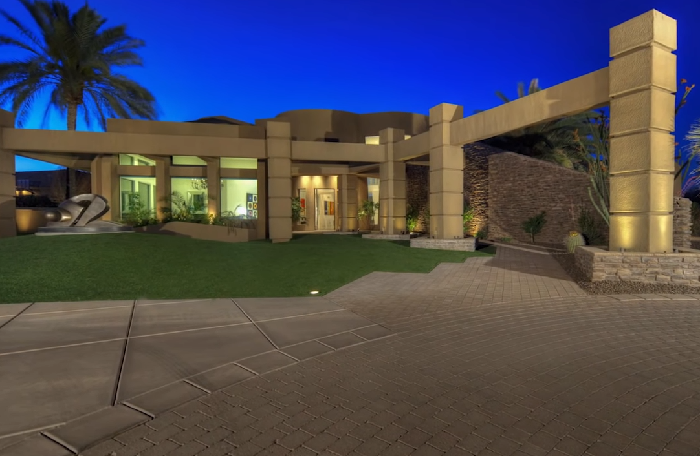 Saint super bowl MVP Kurt Warner knows how to live big. This futuristic Arizona residence is worth just a little under 5 million and spans to about 11,000 square feet. He's got 7 bedrooms total as well as a home theater, game room, and pool area which features a unique t-shaped pool sounds perfect for doing laughs. The home boasts a modern design with sharp lines and natural building materials like metal and polished concrete. There's even a modern-day gazebo in the backyard. That's the epitome of Flintstones meets the Jetsons.
The foyer carries on the futuristic look with black tiled flooring, contemporary art pieces, and sleek white accents. The kitchen is retro meets mon with diner-style chrome tiling, stainless steel appliances, and bright red walls. Kurt also has his own bar area complete with fancy black lighting. I guess you could call it a glow-in-the-dark bar. Some of the bedrooms include a wet bar and eating area for guests. Who can't keep the munchies at bay? The master bathroom is also something astounding with a circular sink, retro frosted windows, and sunken bathtub.
Brandon Marshall
See also: Highest Paid Athletes of America
Wide receiver Brandon Marshall has hit the jackpot with his Southwest Ranches Florida mansion situated on two and a half acres. This place is perfect for the budding equestrian or for someone who needs a lot of space to run and throw footballs like Brandon Marshall. The beautiful home equipped with six bedrooms, seven and a half bathrooms, a heated pool, media room, home gym, outdoor spa, basketball court, summer kitchen, fire pit, elevator games room, home office, and fully functioning smart home technology. The theater room is truly immaculately with cushioning movie theater style red carpeting and leather seats making for a truly authentic viewing experience. The interior features natural touches like mahogany cupboards and built-in fridge, contemporary style lighting fixtures, leather furniture, and 20-feet ceilings.