10 Most Expensive Things Owned By Bill Gates. For most of the 21st century, Bill Gates was the wealthiest man in the world. But because of his penchant for charity and philanthropy his net worth has recently sunk to 96.4 billion dollars. he was surpassed by Jeff Bezos as the richest man in the world. Gates once said money has no utility to me beyond a certain point. Its utility is entirely in building an organization and getting the resources out to the poorest in the world. Since dropping out of Harvard and founding Microsoft Bill Gates became the world's youngest billionaire at 31 years old and has maintained a behemoth fortune ever since from private jets to fancy homes and swimming pools. we are counting down the top 10 craziest things Bill Gates owns.
10. Mansions
Gates has exactly the kind of real estate portfolio you would expect from a billionaire. From a Washington mansion worth a 123 million dollars to multiple mansions across the US. Gate spends most of his time at his 66,000 square feet mansion in Medina Washington. It took Gates seven years and 63 million dollars to build this behemoth of a house which is filled with lots of high-tech features. He purchased a lot for two million dollars in 1988. But is now worth an estimated 123 million.
In October 2014 Gates purchased the 228 Acre Rancho Pass Ends for 18 million dollars. The property includes a race track, guest house, office, veterinarian, sweet orchard and five barns. There's a three quarter mile dirt race track on the property located in Rancho Santa Fe California. Those buildings are filled with equestrian décor, weight loss tycoon. Jenny Craig previously owned the property before selling it to Gates. Gates also owns another horse farm in Wellington Florida which he purchased for 8.7 million dollars in 2013. The family's daughter Jennifer is an avid equestrian and they had previously rented the house when in Florida for competitions.
In 2009 though Gates reportedly purchased a Wyoming ranch that once belonged to Buffalo Bill Cody. The price he paid for the 492-acre property was never reported. It was originally listed for 8.9 million dollars. Beyond these properties, he owns many more properties through his cascade private investment firm including Charles hotel in Cambridge Massachusetts and half of the Four Seasons Hotels. In 2013 Gates and several unnamed buyers paid 161 million dollars for the Ritz-Carlton in San Francisco. The hotel is now worth 200 million dollars the Wall Street Journal says.
9. XANADU
See also:14 Shocking Facts about Disney
Let's look at the crown jewel of Gates property portfolio Xanadu 2.0. It shouldn't be too surprising that one of the wealthiest people in the world also has an insanely extravagant home. It took Gates 7 years and 63 million dollars to build his Modena Washington estate. Main Xanadu 2.0 after the fictional home of citizen Kane's Charles Foster Kane. At 66,000 square feet, the home is absolutely massive and it's filled with high-tech details. He reportedly pays around 1 million dollars in property taxes each year to give you an idea of the scale.
Half a million board feet of lumber was needed to complete the project. The house was built with 500-year-old Douglas fir trees. 300 construction workers labored on the home 100 of whom were electricians. The house uses its natural surroundings to reduce heat loss. XANADU 2.0 is an earth-sheltered house meaning that it's built into its surroundings to regulate temperature more efficiently. In addition, an enormous reception hall could accommodate up to 200 guests. The 2300 square feet hall could seat up to 150 people for a dinner party or 200 people standing up at a cocktail event. A 6-feet wide limestone fireplace dominates one wall while another wall has a 22 feet wide video screen.
The house has 24 bathrooms ten of which are full baths and there are six kitchens. The home theater can accommodate 20 guests in plush seats. It's designed in an Art Deco style with comfortable armchairs, couches and even a popcorn machine for snacking. An existing home was removed by barge to make room for a separate activities building. The 900 square feet building sits next to gate sport court putting green and boat docks all together. Gates garages can accommodate up to 23 cars. There are several different garages located at different points around the property. The most interesting one, however, is an underground cave made out of concrete and stainless steel. That garage alone can Park 10 cars. Some of the concrete was purposely broken to give it a rough deconstructivist look.
8. Amazing Pool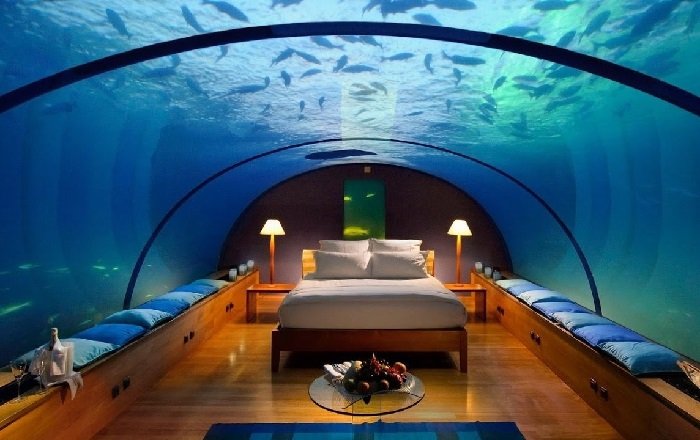 As part of his massive Washington estate, Gates has an elaborate series of pools. They begin with a gentle waterfall in a natural lagoon that cascade into a 60-feet pool. There's a 3,900 square fee building just to hold this particular. People in the pool could swim underneath a glass wall and come up to a terrace area on the outside. There's also a locker room with for showers and two baths and includes a fossil motif floor. The pool is also equipped with a state-of-the-art underwater music system so that guests never need to take a break from their favorite tunes even as they swim.
This is an extension of Gates guest preferences system. When a guest arrives they're given a pin that interacts with sensors in each room in the house depending on their preferences, the temperature music and lighting will change in the house. Each room comes with its own touchpad to control the room environment. All this is of course in line with current smart home trends. So it wouldn't be a huge deal except the Gates has had all this in 1995. Of the 60 million dollars that went into building his home this preferences system certainly took up a huge percentage.
7. Changing Artwork
One of the more interesting features of this house is the flat panel displays behind picture frames. That responds to the pin each guest wears to provide art that is consistent with their interests. The artwork on walls can be changed with just the touch of a button. Situated around the house or $80,000 worth of computer screens anyone can make the screens display their favorite paintings or photographs which are stored on devices worth $150,000. Guests are asked to input their favorite artists and styles when they enter the house.
But if they're running short on time it's possible to find out they would enjoy based on more general demographics like age gender and level of education. But Gates doesn't only own digital artwork, he said what was then an American art record when he bought Winslow homers lost on the grand banks for 36 million dollars in 1998. The painting hangs on a wall outside his home library. Inside his library is Chill De Hassan's room of flowers a piece that's believed to be worth 20 million dollars.
He also owns a painting by George Bellows called Polo Crabb. Gates bought the piece anonymously at a South bees auction in 1999, paying a whopping 27.5 million dollars to add it to his collection. Gates also owns William Merritt Chase's the nursery worth 10 million dollars. He also paid 30.8 million dollars for Codex Life Chester assigned journal' handwritten and illustrated by Leonardo da Vinci. With all this fine art Gates home could be a museum though they only entertain guests from time to time.
6. Private Jet
See also:12 Things You Didn't Know About Amazon
In a recent interview with Ellen DeGeneres Gates revealed that he had only felt he'd made two extravagant purchases since becoming a billionaire. His most extravagant by far was a private jet. Gates had previously referred to his private jet as a guilty pleasure and big splurge. It's been widely reported that he owns a Bombardier BD 700 global Express with seating for up to 19 people and a 40 million dollar price tag. The global is the business jet with the second-largest cabin after the Gulfstream G-650. It can accommodate 12 to 16 passengers in three cabin sections. Mostly a forward for chair club section essential for seat conference grouping. This vehicle is used by militaries all over the world and many consider it to be one of the most luxurious private jets on the market.
5. Porsche
The only other item that Bill Gates considers a luxury purchase is his Porsche that he bought soon after becoming a billionaire. Bill Gates Porsche 959 in silver color is one rare beauty. Gates first purchased the Porsche 911 Turbo in 1979 and rumor has it that he was pulled over quite a few times in the blue sports car. Porsche even officially changed the name of the car to the Gates 959. The Porsche 959 was the most impressive car to come out of the German automaker's doors and quite possibly the greatest car of the 80s.
This twin-turbo supercar came equipped with a six-speed manual transmission instead of the normal 5-speed. It was capable of completing a 0 to 60 run in just three seconds and hit upwards of 195 miles per hour. It's no wonder Gates had such an affinity for this car. The 959 costs $250,000 when it first came on the market but because Gates model is now a collector's item experts estimate it could be worth as much as 10 million dollars to the right buyer.
4. Library
Those familiar with Gates habits know that he is a voracious reader. He has a stunning library to match. The 2,100 square feet library has a dome roof and two secret bookcases including one that reveals a hidden bar. The library is also home to the Codex life Chester, a 16th century Leonardo da Vinci manuscript the Gates bought at auction for 30.8 million dollars in 1994. This is the single most expensive piece in the library but there are many other rare books. Meaning the total value is likely well over 60 million dollars. Though his personal library is off-limits except for distinguished guests. Literacy is hugely important to Gates and through his Bill and Melinda Gates Foundation, he created the global libraries nonprofit. To invest in public libraries in more than 50 countries and ensure that children and adults have access to free reading materials.
3. Trampoline Room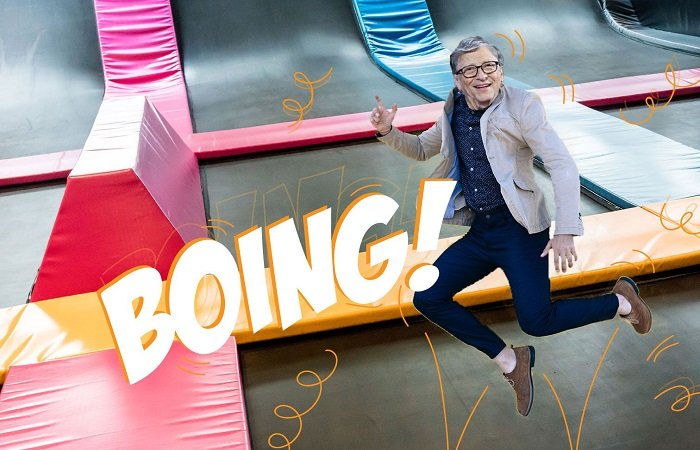 Bill Gates loves his daughters and indulged them one wish when they were growing up. Imagine their delight when he revealed that they had an entire room dedicated to trampolines much like an indoor gymnastics facility. The girls could jump and play at any time of the day or night. It's a room with a very high ceiling. Gates told Ellen DeGeneres and keep in mind that this is only a tiny fraction of the family's total exercise space. The exercise facilities totaled 2,500 square feet and also include a sauna steam room and separate men's and women's locker rooms. This is all in addition to a large series of basketball and tennis courts and of course, Bill Gates legendary pool sounds like a pretty delightful home to grow up in.
2. A Stream & Beach
See also: Wealthiest Americans in the Automotive Industry
Gates lost his anonymity long ago so it's difficult for him to get far away from his fame and fortune. In order to get away, he had a stream and Beach installed on his property. The stream and wetland estuary were created to solve any problems with runoff that the property's large walls might have created. The water is kept stocked with salmon and sea-run cutthroat trout. He also has a miles long beach front installed on his property with sand imported from the Caribbean. The lakefront Shore contains sand that's delivered in large quantities by a barge from st. Lucia. Each year contractors estimate that the initial shipment must have cost at least 2 million dollars while subsequent shipments probably cost around five hundred thousand dollars. Although the water is much too frigid to swim in Washington Gates enjoys a long walk on the beach with authentic white sand.
1. Investment Fund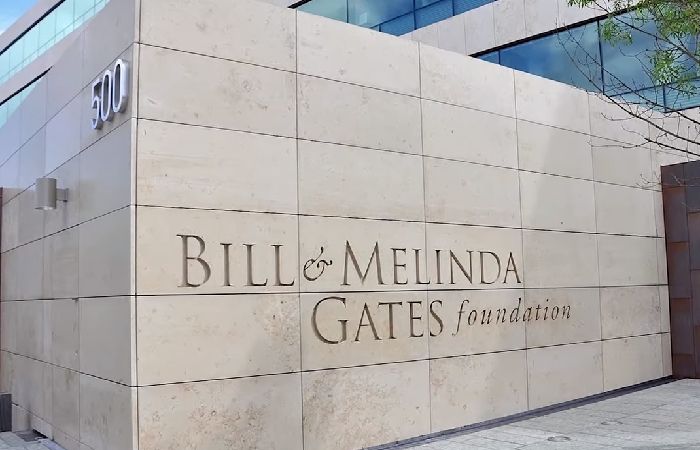 Perhaps the most extravagant thing Gates owns is a private wealth fund. Though much of his finances are still tied up in Microsoft. He started a wealth fund with the intention of protecting the environment. Breakthrough energy to invest 1 billion dollars into radical energy startups capable of drastically cutting global emissions. The fund draws on the resources of billionaires like India's Mukesh Ambani, Amazon's Jeff Bezos, former New York City Mayor Michael Bloomberg, virgins Richard Branson, Ali Baba's Jack Ma and soft banks Masayoshi son. This is in line with his Bill and Melinda Gates Foundation. Through which he has pledged to give away the entirety of his fortune within his lifetime. The foundation has already given away 30 billion dollars over the last few decades.