Things to Know About Laguna Beach, Florida. How captivating is nature? How thrilling is it to see the magnificent architecture of flora and fauna?
The answers to these "How's" are utterly evident. Wherever we go or live! Our relation with nature drags us towards it because the actual tranquility lies inside it. The serenity we wish to feel in the robotic world is unstable and feigned. The world as a whole is the scenery of nature mastery. We will discuss one of the compact terra firma of this eye-captivating beauty known as Laguna Beach. This spectacular beauty is part of the Land of the beaches and Resort. So, once again, we will shed some light on the alluring beaches of Florida.
See also: Kings landing Florida History and interesting Fun Facts
Firstly, discuss the beginning of this realm.
History | Laguna Beach, Florida
Laguna Beach has a population of 3,932according to the census of 2010 and is located in Bay County, Florida, USA. This beach has a minuscule community. So, the area does not seem that crowded. Laguna Beach is part of Panama City, which is the reason behind its popularity. The beaches of Panama are more famous as compared to this one.
Let us see how Laguna Beach was named and is considered a part of Panama City. While looking behind, we came to know that Bay County was undetermined till the 1900s. So, the period of development of Laguna Beach started in 1935. It was the start of their commercial life. The very first evolution was the construction of the Seabreeze Hotel. The inner community was struggling hard to level-up the standards of life. And their dream of becoming more prosperous turned into a reality as soon as the Coast Highways construction was completed.
Laguna Beach has a small area of 6.734. So, it does not have a variety of places to visit. All the places we are going to mention here are just a few miles away from Laguna Beach. Most people visit this place when they are vacationing in Panama City. It is a gratifying and peaceful beach as the crowd rate is below the average. You will surely enjoy the tides as the whole scene is breathtaking.
Let us have a quick trip to the tourist spots near Laguna Beach, Florida.
Off The Shark Fishing Trips
See also: Best Places to Visit in Four Corners Florida
On your visit to Laguna Beach, Florida, you can enjoy many water games near Panama City Beach. The activities here include shark hunting. The authorities charge about 300$ for maximum hours. This venture seems dangerous and thrilling, but you can enjoy this with your family as well. It is a time-consuming task, but if you are lucky, then you can catch more than one shark.
This water sport is quite compulsive. So, the thrill lovers must have to pay a visit to this place.
MoJo Surf Co LLC
This place offers and teaches the most hypnotic ventures. They propound the activities from surfing to art. This place is capable of training beginners to surf within five days. Yes! You have heard it correctly. The atmosphere and the trainers are friendly. That within a few spans of time, you will be able to surf on the tides. They will also teach the kids under 10 to surf. It clearly shows their credibility.
The review of this place is exceptionally awe-inspiring. Their management is up to the required standards and according to the desires. All of this credit goes to the authorities of MoJo Surf Co LLC.
You can also enjoy guitar play in the evening time with friends. You can make the reservations before visiting this realm. The timings are from 7:00 AM to 7:00 PM.
It's time to have some rest. Here we will mention some of the famous and best hotels near Laguna Beach, Florida.
Catalina Court
You may also like: Best Place to Visit in Blue Grotto Florida
This hotel is also in Panama City Beach and is one of the best hotels for travelers. They offer a list of facilities like free parking, beach, pool, and you can also take your pets in this hotel. The room services include air conditioning, a refrigerator, and a small kitchen.
The atmosphere of this hotel is peaceful, and your family can enjoy it there without any disturbance. It is budget-friendly. So, you will not face any pressure on your pocket.
Wisteria Inn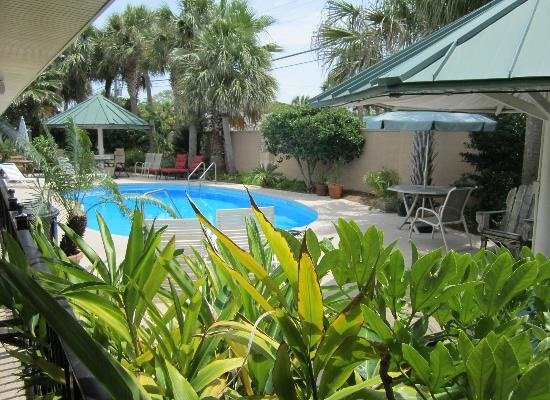 This hotel offers the same facilities as Catalina Court, but it has a different level of versatility. For couples, this place is the best as they propose a romantic atmosphere. So, you can also consider this hotel for your honeymoon trip.
Time to look for some delicious food restaurant
Thomas Donut & Snack Shop
It is the most loved and sweet spot. Thomas Donut & Snack Shop offers mouth-watering donuts in all flavors. The reason behind their popularity is the freshness of the food items. Their specialty is Donut along with sandwiches, biscuits, and gravy. So, please pay a visit to his luscious place on our recommendation.
Back Beach BBQ
This place serves as an attention seeker for the tourist community. The locals also enjoy dining there. They offer American and BBQ cuisines for lunch and dinner. So, you can relish there on BBQ.
Our Review
This small land is full of peace. You can spend your leisure time in Laguna Beach, Florida because the beauty is breathtaking. And less crowded feature has made this place more attractive for introverts. So, we will recommend all of you to visit this realm.