Top 10 Best Towns in Alabama. Here we talk about the top ten best towns in Alabama. We're going to focus on some of the great towns in Alabama. Now this list is based on stats like crime, cost of living in, schools, etc. We also take into consideration things like history, reputation, and scenery. Here are the top 10 best towns in Alabama according to Exploring-usa.com.
10. Orange Beach
Orange Beach is in Baldwin County Alabama. It's got a population of right around 5,500 people and it's right on the Florida Alabama border. What's really cool about Orange Beach it's a family beach vacation place. It is not really known for its wild drunken college kids thing, it's all about families. The main attraction at Orange Beach is wharf. The wharf is a family entertainment district. It's got the tallest Ferris wheel in the southeast which is kind of cool especially you get to look out over the ocean. My favorite thing about Orange Beach is the Alabama Gulf Coast Zoo. Orange Beach is a really cool part of Alabama.
9. Fairhope
Fairhope is another city in Baldwin County Alabama. This is a great little town. It's on the shoreline of Mobile Bay. The population is around 15,000. A lot of people say that you'd never guess they have that many people because it's so spread out. The houses aren't always right on top of each other. This is a nice place to live. For proof of that website, niche gives Fairhope A's and B's in every category.
Here's something else that's really cool for the like. The last 50 years or so residents fishermen who ever have experienced this thing they called the Jubilee phenomenon. During Jubilee along the shoreline of Mobile Bay, some of the aquatic life including things like blue crab, flounder, stingray, and shrimp come to the shoreline. It's possible for you to just walk up and grab fish, crabs whatever. Fairhope is a nice place to live in.
8. Mentone
See also: Top 10 Best Suburbs of Portland Oregon
Mentone is located in two Cobb County Alabama. This is a small friendly mountain village on top of Lookout Mountain in northeast Alabama. This is a cute little tourist and vacation type of town. Great views, plenty of nature and a pretty cool 100-foot waterfall. Whether you're going there to look for relaxation or some outdoor fun whatever you want to do you'll find it in Mentone. Mentone only has a population of about 500. They also have almost zero crime. This town is known for being friendly. If you've ever lived in a tourist town, you know that's uncommon. Locals hate tourists that's just a fact of life. This town has a bunch of summer camps cabins and other vacation type businesses. If you're hungry try the plowshare Bistro. It's a farm-to-table type place everything's fresh.
7. Magnolia Springs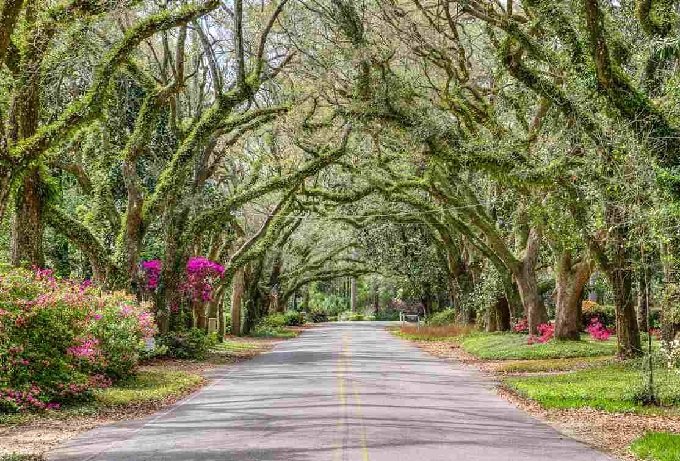 Magnolia springs is another town in Baldwin County Alabama. The town is located at the headwaters of the Magnolia River. This place is like an ad for the home and garden channel. It looks like Martha Stewart took too many Adderall and designed a small southern town. They have only been in town since 2006. They were just part of Baldwin County before like a section of it. In 2006 the residents voted to incorporate into a town at one of their town hall meetings.
Even though they were in a town before this town actually has the only U.S. postal service water delivery route in the country. Their postman shows up on a boat that's just weird. The town has just under a thousand residents and they have a town meeting every single month. This is small-town living if you go on vacation the local sheriff will stop by and check on your place. When we think about small-town life they have almost zero crime as well.
6. Spanish Fort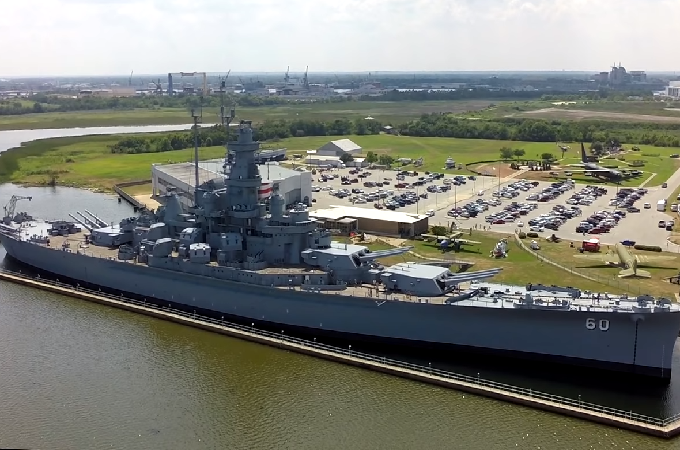 Spanish fort is one of the oldest cities in the United States having first been settled in 1712. It's also the site of a famous Revolutionary War bound, the Battle of Fort Charlotte. After the battle, the town's original trading post was converted into a military fort giving the town its name Spanish fort. It stretches out in the Mobile Bay with a few small islands. There's a river and some other tiny little Bay and it's all just right off of Mobile Bay. If you're visiting Spanish Fort, you'll see the USS Alabama.
It's a World War II battleships docked in the bay and now a museum. It's been turned into a museum. I would suggest giving it a visit. This is another town that gets all A's and all B's except for the commute. The commute is a slice which considering it's right across from a major city like Mobile and there are a bridge and bay in the middle. You got plenty of jobs, home prices are decent and the crime rate is low.
5. Mooresville
See also: Top 10 Most Beautiful Towns in the United States
Floresville is located Limestone County Alabama. The entire town is on the National Register of Historic Places. So that's kind of cool I always mention when towns have a bunch of history. The history in Mooresville isn't as many events as it is structured. The stagecoach inn tavern was built in 1820. The local post office which is the oldest functioning post office in Alabama was built in 1840. The brick church in 1839. Historic homes and buildings, extensive gardens, tree-covered streets. This is a sweet little town that has less than 60 residents. It's so small that I couldn't even get ratings on its crime or anything like that. But everything I've read they haven't had a murder in decades. It's a great little place Mooresville only 60 residents.
4. Muscle Shoals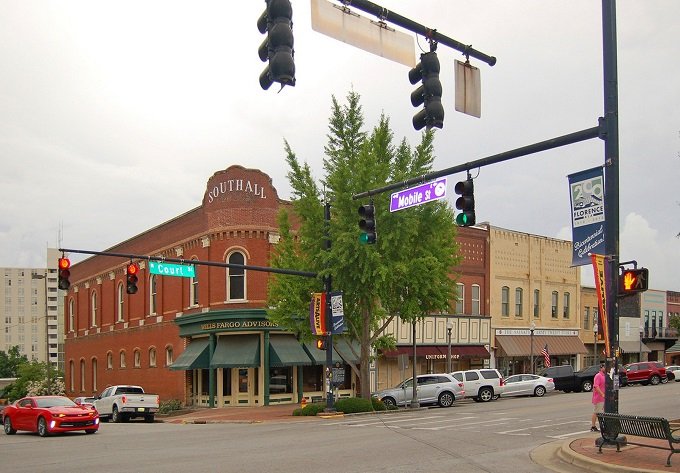 Muscle Shoals is the largest city in Colbert County Alabama. It's home of 13,000 residents. Muscle Shoals in Northwest Alabama is named for being a popular location for gathering muscles. This is another place with a rich music history. Muscle Shoals is famous for recording a bunch of hit songs starting back in the 1960s and even up to today. They have two major studios which it's fame studios were Percy Sledge to Reed Franklin Wilson Pickett Otis Redding.
The second studio is Muscle Shoals sound studio down there on North Jackson Highway. It's technically in Sheffield Alabama but it's right there on the border right next to each other and it's also called Muscle Shoals sound studio. Now they developed works for Bob Dylan, Elton John, Rolling Stones, Leonard Skinner and a bunch of others. This place is rich in musical history. This place has developed a lot of music. What else makes Muscle Shoals a great place to live is its scorecard. This one is another one that is A's and B's across the board. The school system actually has an A+ rating which is kind of rare. That really makes a good town when they have good schools.
3. Hartselle
See also: Top 10 most secluded towns in the United States
Hartselle is the second largest town in Morgan County Alabama. The town Hartselle is comparatively young as far as towns go especially in Alabama having only been established in the late 1800s. Originally it was a small village on some train tracks and it was located about a half-mile north of where downtown Hartselle sits today. Hartselle l is a wonderful place to live in. Its overall scorecard is an A-minus. Schools, housing jobs, crime, cost living all graded in the A's. The median home price in Hartselle is a hundred and twenty-eight thousand. That's over fifty thousand less than the national average. Rent in Hartselle now dirt-cheap to about five hundred and fifty dollars will get you a decent two-bedroom house to rent. It's like they forgot to raise rent prices.
2. Decatur
Decatur is a town in Morgan and in limestone counties in the state of Alabama. This city is affectionately known as the River City. It is located in northern Alabama on the banks of the Tennessee River. Decatur was the site of several encounters during the American Civil War. When the Union Army occupied the town in the early parts of the war the commanding general ordered all but four the buildings in the town destroyed. They've rebuilt and recovered from the Civil War now. Decatur does get an overall of A-minus which is a little bit less than some of the other ones on this list.
They have great schools, cost living, jobs and the only thing that really brings them down is their crime and outdoor activities. Which both got a C+. In most places a C+ would be phenomenal but when we're talking the best of kind of brings them down a little bit. But what makes them go so high on this list again is housing prices. They are even cheaper than Hartselle which is just to the south of Decatur. By the way, the median house cost is a hundred and twenty-two thousand dollars. The average rent there is about five hundred dollars for a two-bedroom.
1. Tuscumbia
You may also like: Top 10 Most Beautiful Towns in Colorado
Tuscumbia is a town in Colbert county Alabama. It settled in 1815 and established as a town in 1820. Now they have some history here during the Civil War. The railroad hub in Tuscumbia made it a target for the Union Army which destroyed the railroad buildings and other parts of the town. Tuscumbia contains the largest collection of middle-income historic homes in Alabama. In other words, they have a whole bunch of really nice, really old everyday homes. Most of the time when you see the historic home it's a mansion or a plantation or something like that. Preservation and restoration of these homes and historic commercial buildings have kind of made Tuscumbia a popular destination for history orientated visitors. A few Tuscumbia attractions include Spring Park, the Alabama Music Hall of Fame, IB green.
This is the birthplace of Helen Keller. She's the most famous resident of Tuscumbia. Tuscumbia has a great scorecard crime being the only category lower than a B, they got a C+. That's really good to remember. The median home price in Tuscumbia is a hundred and one thousand dollars. That's crazy these aren't run-down homes, these aren't shacks, these are nice homes. This is a great place to buy a home. They've got jobs, especially in the surrounding area. They're attached to Muscle Shoals, so it's not like they're out in the middle of nowhere. This is a great place to live when you add up all the history, the scorecard, the beauty of this place and the home prices. Tuscumbia is the best town in Alabama.