15 Stunning Waterfalls in Texas. No one in this world can deny the beauty of nature. The word nature speaks its language of love and tranquility. We all try to find peace of mind in the lap of mother earth. The sound of water falling, sparrows chirping, leaves rustling, and wind blowing brings calmness and freshness with it. They act as a pain killer for everyone; this medicine suits patients from all over the globe.
The greenery of trees, the odor of sand, the leaves full of dewdrops; will make you feel like you are in paradise. Whenever we are free or have vacations, we always love to visit a place where we can have inner calm and serenity. These visits are the energy pills for humans, as nature heals the broken and tortured man. They are boosters of positivity as the composure fills the empty soul. Here, we will discuss the fifteen best waterfalls in Texas. Let us review it.
1. Pedernales Falls and State Park
Pedernales Falls has the heart-throbbing and; eye-capturing beauty as nature has awarded this land with utmost and thrilling views. The panorama of this land looks like the water flowing on and around the prepossessing slabs of limestone.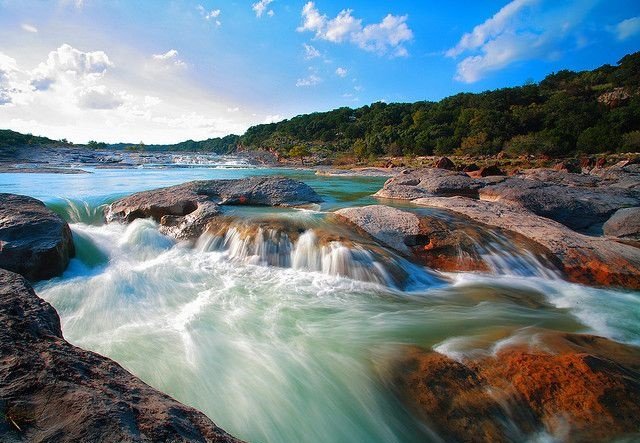 See also: Top 10 Coldest cities in The United States
Pedernales falls are thirty miles west of Austin and seventy-five miles north of San Antonio. This waterfall has given multiple golden advantages to its visitors.
Firstly, the mother earth has accorded you a relaxing and calming spot for picnics. Secondly, this place is a huge source of Vitamin D you can take sunbathe as much as you want.
There are some precautions that you must have to follow. The behavior of this waterfall is on the rise and fall of water. Sometimes the water is turbulent. So swimming is not allowed in this region.
Another stunning place with this waterfall is its state park known as Pedernales State Park, Texas. This recreational area acts as a cherry on the top of your cake. Let us list the thrillers of this parkway.
You can perform all of the below activities like,
Picnic
Mountain biking
Geocaching
Camping
Horse Riding
Swimming (In the Park)
This meadow allows you to pay a visit to the wildlife of this area. So, Pedernales Waterfall and its State Park is a perfect resort for spending quality time.
2.

Hamilton Pool Waterfall
Hamilton Pool Waterfall is god-gifted heaven on Earth. A big pool with water dripping from 50ft makes this whole scenario magical and a charismatic one. The water in the pool becomes greenish in the sunlight and enhances the beauty of this waterfall.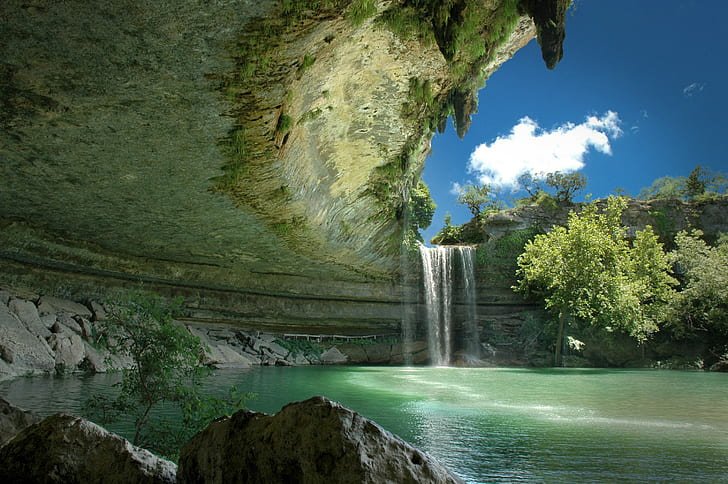 Hamilton waterfall already has several lovers as this place is the crowded one during the summer. The cool water acts as therapy for the enthusiastic hikers and swimmers near Austin. The most stunning aspect of this waterfall is that it never dries up, so having no rain is not an issue.
You may also like: Top 11 Most Stunning Cliff-Side Beaches of USA
Its beauty has captured travelers from all over the world, and you have to make a reservation before visiting Hamilton Waterfall. It also allows you to swim and hike. But swimming is the most loved activity here. This waterfall is in Travis County Park, Texas.
3.

Cattail Falls
This waterfall is beyond imagination. Its beauty wants us to stare at it as much as we can. It has mountains with greenery; it's a pure land of peace and serenity. The height of this waterfall is 80ft, and to reach this spot. You have to take an arduous journey of about 3 miles.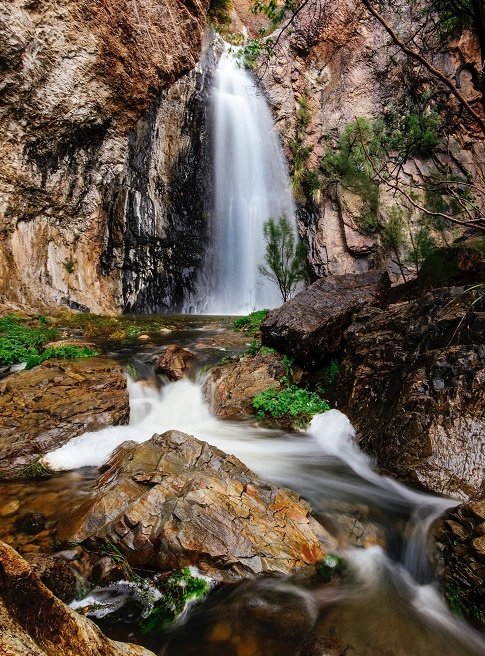 This haunt is famous because of the hiking. This trail of 3 miles doesn't seem like an easy job, but after reaching the spot and seeing the beauty of the spring, your tiredness will go away. And it makes you feel like you are diving into the pool of calmness and pleasure.
4.

Gorman Falls, Colorado Bend State Park
It is one of the most beautiful waterfalls in Texas. It is the heart of Colorado Bend State Park, Texas. The greenery on the top of the mountains is quite noticeable, and it feels like the mountains have the covering of green sheets.
The path leading to this delightful waterfall is steep, and it makes the hiking easy. The actual hike is three miles and is exhausting. The height of Gorman Falls is 65 to 70 Ft. The waterfall is crystal clear and broad. During heavy rainfall, the surface may become slippery, and the authorities can postpone the hiking for some sunny days.
Because of its gigantism, you may not be able to capture this beautiful sight at once. The Colorado Bend State Park is a famous resort, and the entry pass is about 6$.
5. Westcave Waterfall
Another Texas waterfall whose beauty will spellbind you is known as Westcave waterfall. As it has the power of attracting a prodigious audience towards it.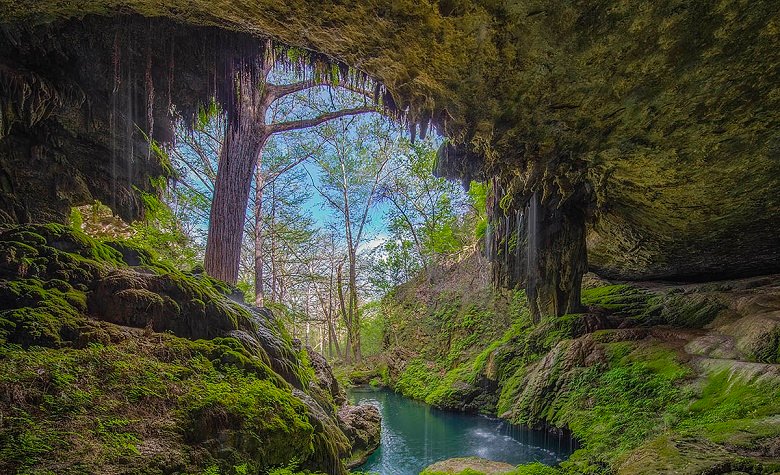 Westcave waterfall is between Hamilton and Pedernales waterfalls, showing another beauty of Texas. A travel guide is compulsory for this visit or a travel book. The guides will take the travelers from an arid savannah into a sheltered canyon. The height of this waterfall is about 40 feet.
See also: 77 Most Beautiful Scenic Places in USA
Westcave waterfall has a cave, which doubles its grandeur. This scenario seems like a fairyland. The timing for paying a visit to this place is on weekends, and you have to make a reservation firstly.
6.

McKinney Falls State Park
This waterfall is known as a picnic spot. The McKinney Falls is not that high, so this place has a colossal crowd on weekends. This place offers many other activities like fishing, hiking, and swimming. But during heavy rainfall, there will be no activity.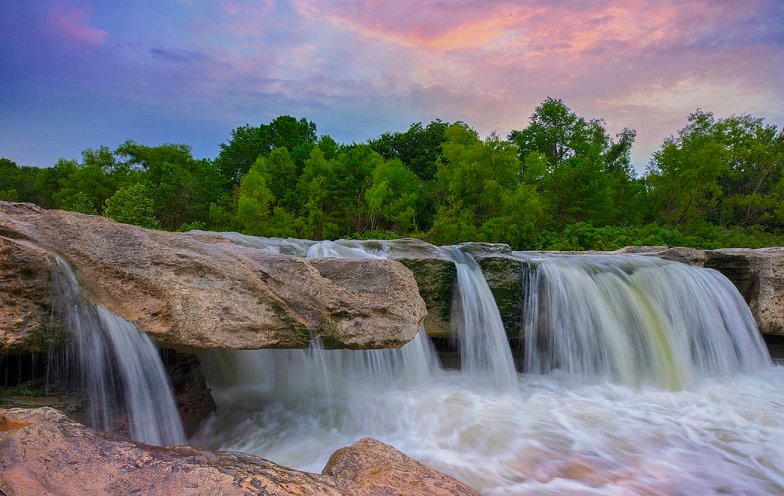 The upper and lower falls convert themselves into a mammoth crystal clear pool of water. This water rushes over the limestone slabs and makes the view magnificent. The water falling from the upper and lower falls gives a beautiful and calm sound. It brings tranquility in its hands and will relax you. If you are exhausted, then you must have to visit this alluring nature. The parking area is available, and the park authorities charge about six dollars as an entry fee.
7. Krause Springs
Krause spring has many spectacular features, but the top one is its 30 natural springs. The beauty of this land and waterfall is beyond the imagination.
Krause spring got its name from its owners; The Krause family. They have organized many activities for visitors. But swimming is the best and famed activity here. The specialty of this waterfall is its swimming hole. And this resort attracts swim lovers the most.
There is greenery, and the trees have formed a forest. You will enjoy this place because of the camping options.
The charges are low for camping so everybody can enjoy this place. There is a beautiful butterfly garden. Where you can walk around, and this will aid you in shedding all the stress and negativity. The clear and fresh view will capture the positivity from the mother earth.
8. Wichita Falls
We have seen many natural waterfalls, but this fabricated waterfall is engrossing. We should not consider any comparison between nature and man, but this waterfall has proved itself as a bag full of benevolence. You will find yourself in a hypnotize condition after visiting Wichita waterfalls. The location of this waterfall is Lucy Park. The height of this waterfall is 54ft and has a unique design. There are proper paths on which you can walk. The scenery of this waterfall becomes more beautiful with the rocks and woods placed near it.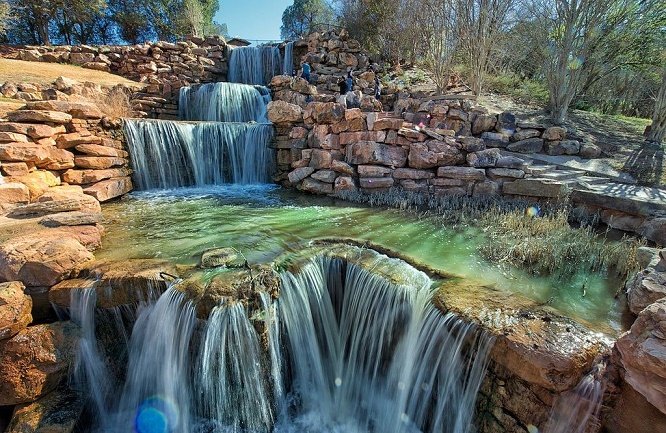 See also: 39 Most Beautiful Waterfalls in the USA
This fabricated waterfall is useful for photography and many other purposes. There is a hike of about a half-mile so you can have fun after visiting this breathtaking place. For Instagram lovers, this place is best for photo-shoots.
9. Windows Trails
This waterfall in Texas is an adventurous one. This place has attracted most of the hikers. As it is considered one of the best hiking places in Texas.
The location of this beautiful waterfall is in Big Bend National Park. Windows Trails is dry for most of the year, but the heavy rain fills this with beauty and a lot more magnetism. The height of Windows trails is about 948ft, and the hike is about 5.2 miles.
During hiking, you have to take certain precautions; a little slip will break your bones. So, be careful!
The name of this waterfall is Window because this place has just one hole for water to fall. But most of the time, the land is dry.
10.

Madrid Fall
Madrid Fall has a height of 100ft and is known to be the second-highest waterfall in Texas. This cascade is not as famous as the previous ones because the path leading to this fall is a bit complicated.
You have to take a long drive, and then you have to hike like a professional to see the charismatic viewpoints of Madrid Fall, Texas. But the enthusiastic hikers will never leave this place. They will surely pay a visit to this waterfall.
The roadmap for hikers is that they have to drive to Chorro Vista Campground within the Park of Texas, known as Big Bend Ranch State Park as the area of this park is colossal, around about 300,000 acres.
There is a need for a guide or roadmap for Madrid Fall, Texas, as the distance is wholly vast. There is another fascinating nature gift near the Chorro Vista Campground, an 80ft waterfall known as Mexicano Falls.
11.

Mexicano Fall
This eye-catching waterfall is near Chorro Vista Campground. It is the third highest waterfall in Texas, as the second one is Madrid fall.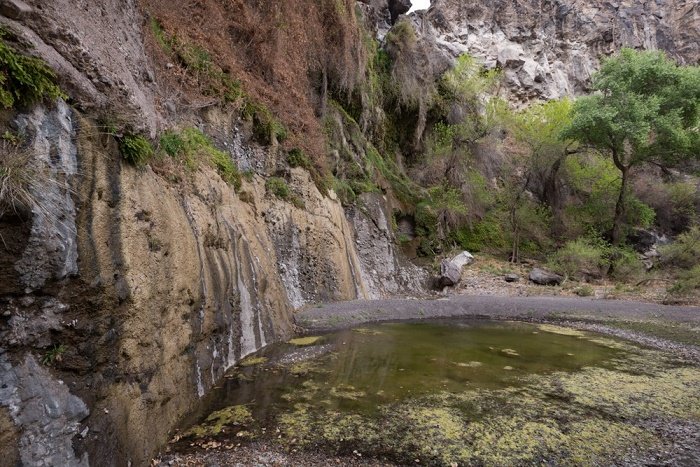 See also: 60 Beautiful National Parks in the United States
This waterfall is also in the Big Bend Ranch State Park. So you can visit two stunning waterfalls in the same park. The way which leads to this beautiful waterfall is a base of a small mountain known as Ojito Adentro, or you have to hike for one mile to reach your destiny.
12.

Boykin Spring in Angelina National Forest
Boykin Spring is one of the most beautiful, small waterfall of height 4ft. This waterfall has a sweet sound of dripping water and will give you inner calmness and tranquility. This Texas waterfall is in Angelina National Forest, and they offer multiple activities like:
Fishing
Hiking
Camping
Picnic spot
Horse and bike riding
This kind of park or waterfall is mostly preferred as the whole family can enjoy there. Another factor is that it is safe. There is no fear of slipping or falling from somewhere as the height is compact.
The roadmap for this hike is about one mile on Sawmill Trail. There are many other small springs along with it. So, we will recommend the families to travel to this breathtaking waterfall and enjoy it the most.
13. Beef Creek Falls, Texas
This waterfall is not much famous because of its location in East Timberland. But the view of Beef Creek Fall is pure and raw. If you are a lover of traveling, then this site will amaze you.
 A Proper Guide will help you to visit this place.
14. Dolan Falls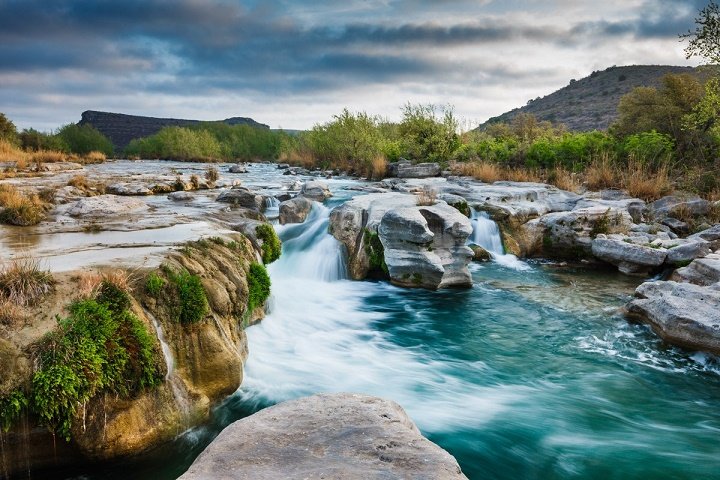 This waterfall has a limited area to visit as the authorities want to preserve this place. This fall is in Devils River, and they are trying hard to save this beauty from the tourists. But some part of this river is for the travelers to visit and enjoy. They also take some charges, and through this money, they preserve the river.
15. Wildcat Hollow Waterfall, Dinosaur Valley State Park
This waterfall has a direct proportionality with the heavy rain. Ponderous the rain, the more filled the waterfall. Wildcat Hollow waterfall has 50ft of height, but its complete functionality is with heavy rain.
This beautiful waterfall of Texas is in Dinosaur Valley State Park. This recreational area is also famous because of its Dinosaur tracks. And it serves as an attraction for the visitors and especially for the kids. A state park is a stunning place as a whole. You can see the dinosaur trackway when the water level is low, but in this case, you will not enjoy the waterfall.
To get the full enjoyment, you have to plan the visit of a few days stay as this will allow you to see the dinosaur tracks, and after the rainfall, you can see the Wildcat Hollow fall.
Our Review
The beauty of mother earth is breathtaking and astonishing. There is no comparison between these waterfalls; they all have their specialty and features. So, we will recommend the audience to visit the beautiful god-gifted lands whenever they have leisure time in their life.