These are the best small towns in America to live in. Small town people are very passionate about their hometowns. Hometowns are like family members. here are my top 10 best small towns in America.
10. Jackson Wyoming
If you like the outdoors this is your place. Jackson is 60 miles from Yellowstone, 5 from Grand Teton National Park. They have a couple of cool attractions snow king resort. They also have this really cool thing it's not gonna sound too cool the National Elk Refuge. I stayed at the cowboy village log cabin resort which is a really neat place. It's like a hotel but they give you your individual log cabins. It was a lot of fun I really enjoyed it. I'm going back probably in 2019 to do some more snowmobiling. The schools are amazing apparently they get high marks. They have very very low crime it's well below the national average even especially I should say for a tourist location.
9. Port Angeles Washington
See also: Top 25 Safest Cities in America
Port Angeles is settled between the Olympic mountain range and the Strait of Juan de Fuca. There's a lot of fun stuff for residents around. This town has mountains, rivers, lakes, and forest lands. You also have a great medical care center the Olympic Medical Center which is kind of big for a place this small. And out of the way, it's really nice a lot of good doctors and nurses there. The schools are nice and it has very low crime. Home prices are low, jobs are good and very little crime. If you look out in the ocean there's a good chance you might see an Orca or two.
8. Arcata California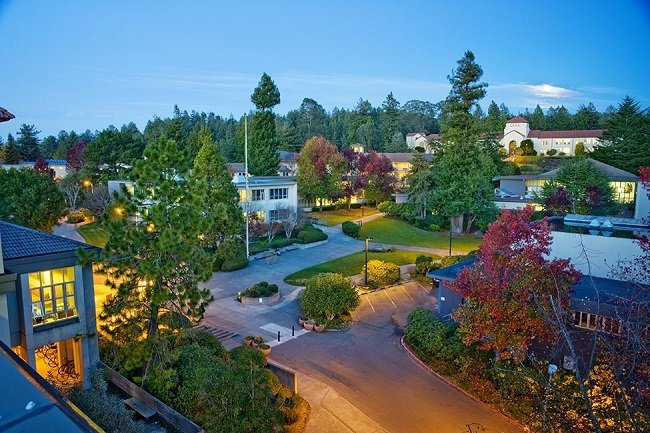 Located near Humboldt Bay Arcata is a college town. With Humboldt State University students making up more than half the city's total population. Arcata has very low home prices for California especially when you consider how close they are to the ocean. Crime levels are much lower than the state average. Arcata had three murders in 2013, prior to that Dan had one since 2002. Arcata notable residents are Coty's home of UFC fighter Nate Quarry.
7. Spearfish South Dakota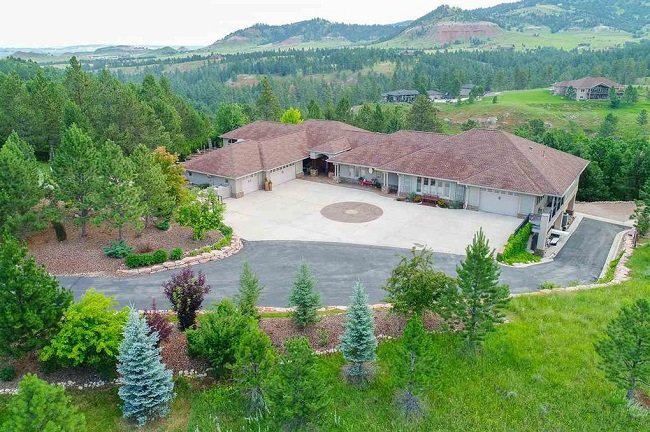 See also: Top 10 Most Beautiful Towns in the United States
Once you realize there's a giant difference between North and South Dakota you can relax and listen. North Dakota's kind of a nightmare, South Dakota is a really nice place to live. And one of the best places in South Dakota is a small town called Spearfish South Dakota. This is another place for outdoor types. Three mountains surround Spearfish. Outdoor lovers come here to fish in the creek, hike the canyon and visit the Black Hills. It's not too far from the town of Deadwood and Sturgis. The Black Hills National Forest is right behind it. In Spearfish they have highly regarded schools within the Spearfish School District and the Black Hills State University is a really good University. The only downside is you have to tell everyone you live in a place called Spearfish.
6. Point Roberts Washington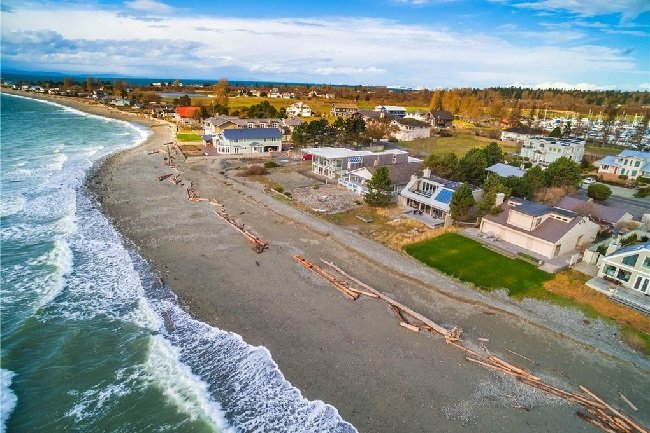 See also: Top 10 Most Beautiful Streets in America
Point Roberts is a strange little nipple of land near Vancouver British Columbia. It was part of Washington's estate but it's connected by land only to Canada. I love this place.  Crime is non-existent there. The school that they have there's decent and that's only the third grade. After that, you got to travel to Blaine Washington. The kid's fourth grade above has to bus it through Canada to Blaine Washington go to school. That's about the only downside of the place. Ocean view people see orca swimming by on a regular basis.
The overall crime rate on point Roberts is 58 percent lower than the national average. Point Roberts is safer than 85% of these cities in the United States. On Point Roberts, you only have a 1 in 88 chance of becoming the victim of any crime. The housing prices they can get a little steep there especially if you do have one of the ocean views. You could travel by ferry to see how or whatever but most people will go up through Vancouver and back down. You also get to go through Vancouver and to Vancouver so there's a lot of really cool things you can get from Canada.
5. Hood River Oregon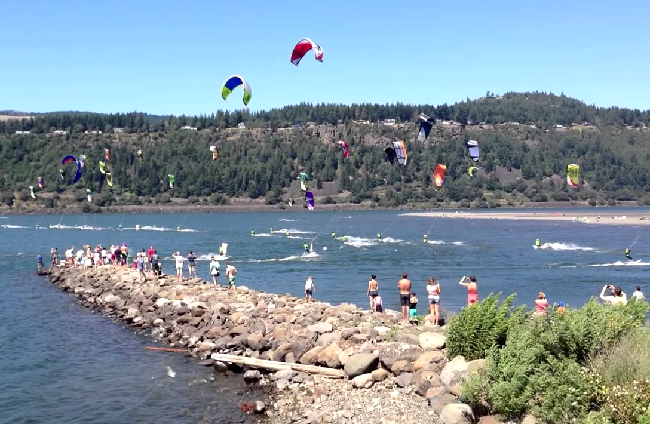 See also: Top 10 Fastest Growing Medium Cities in the US
This is another place for outdoor types. Snow ski, snowboard, windsurf, mountain bike, hike whatever you want to do all on the same day. Mount Hood is less than an hour away depending on what part of the mountain you're going to from Hood River. The town of Hood River is located where the Hood River and the Columbia River meet. This town has very little crime and as of 2019, they haven't had a murder in over 20 years. Just a couple of assaults every year and a handful of robberies. Home values are starting to creep up. I've driven through and stayed two nights in the Hood River and I really liked it. Hood River is a really nice small town in Oregon right across the river from Washington.
4. Bar Harbor Maine
Bar Harbor is a town on Mount Desert Island Maine. That's a little tiny a little not really tiny but it's an island right off the coast of Maine. Bar Harbor has some of the best air quality in the country. Crime is very low. I tried to find the last murder they had in Bar Harbor and I had nothing for 30 years couldn't find anything. If I'm wrong to let me know but I did some searching. All I ran into was a bunch of stories about grisly murders that led to hauntings from the 1800s just stuff like that. The only knock on this place is the cost of living is high. But the place is amazing and it still might be worth it especially if you got some coin in your pocket.
3. St. Augustine Florida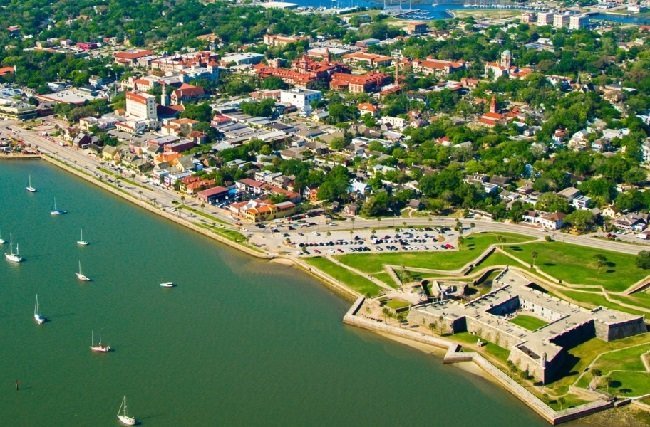 See also: Top 10 Most Beautiful Towns in Colorado
Considered the nation's oldest city st. Augustine celebrated its 450th anniversary back in 2015. So now it's 454 years old. Residents get to live with what millions of tourists come to see every single year. Historic Spanish architecture, amazing beaches, and a great downtown filled with restaurants, shops, and museum. As a matter of fact, they are ranked 10th in the number of museums for any city. The main industry here is obviously tourism and they always have jobs. They have a great school system and a low cost of living compared to other coastal towns. It's also the hometown of the late great Tom Petty.
2. Lebanon New Hampshire
Lebanon offers residents the type of life that you just won't find in any big city. It is a beautiful place with a strong economy and a good educational system, affordable housing, and very low crime. This is a town that always seems to be on all lists about good places to live. Lebanon and West Lebanon are tucked in a valley along the Connecticut River. Lebanon is home of the Dartmouth Hitchcock Medical Center which is a great place. A couple of high tech companies including TomTom, the ones that do the GPS thing. Under notable residence on Wikipedia, they listed Charlie Park Hearst. If you don't know who that is you're not alone Charlie was a cross-dressing stagecoach driver from the 1800s.
1. Traverse City Michigan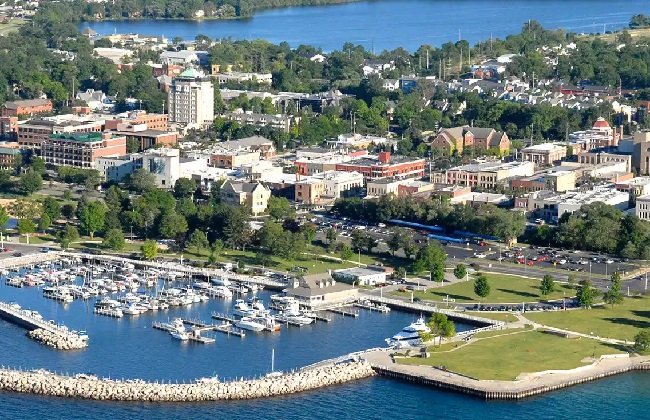 See also: Top 10 US Cities with Best Weather
Finally, something about Michigan and isn't Detroit or poison water and Flint. This town of about 15,000 people consistently ranked high on lists about the best small towns all over the internet. It's easy to see why great beaches, great vineyards, great views of Lake Michigan. Visitors newcomers anyone just stops and by tourists, they fall in love with this Michigan town. Do you like wine boating hate stuck-up a-holes if so go to Traverse City? The city has no real notable residence.
 That's my list I hope you enjoyed it. I hope you got some good information out of it. maybe you found a new hometown whatever either way. don't forget to leave me a comment.