Histories of Saviors, Landscapes, and nations aren't meant to be obliterated. There is a story in every leaf, tree, mountain, soil, and throne. In short, these are the essentials of any federation and must have to be maintained.
To preserve these historical impressions, they have been named National Monuments, and thus they came under the observation of the Government. It allows the locals and international ones to visit and learn from these spots.
The history of the USA bears a lot of memorable moments and locations. Therefore, we have mentioned 6 Famous US National Monuments for our audience below.
See also: Top 13 Largest Artificial Lakes in the USA
6. Parashant National Monument
Location: Littlefield, AZ86432, US
Area: 1,048,325 acres
Established: January 11, 2000
Grand Canyon – Parashant is an isolated yet famous US national monument. Wait, how a monument be recognized when it is remote?
Grand Canyon Parashant's wilderness, buttes, canyons, dazzling sunsets, and beautiful springs are the reasons for its popularity. It takes the visitors back to the time of no wires, no signals, and no traffic noise. Moreover, No crowds!
In short, here, the swings of the tranquility dance from top to bottom of the mountains. It is where nature draws a different image of isolation, where the fear of being alone seems to vanish away. In a nutshell, it's hard to explain its exquisiteness.
Grand Canyon Parashant National Monument is also known for its historical, geological, and architectural sites. It was established under the Antiquities Act, whose main objective is to protect these archeological sites from further human digging. Moreover, from a historical perspective, people can visit the ranching sites in Grand Canyon Parashant. Previously, these sites were used to raise ostriches and pigs. However, the ranches aren't the same as they were.
The visitors can perform many activities like horse riding, camping, hiking, hunting, etc.
Some precautions should be taken if you are having a solo trip to this National Monument. But, firstly, try to carry a good map, food supplies, and first aid.
5. Escalante National Monument
Location: 745 .US. 89, Kanab, UT 84741, US
Area: 1, 870, 000 acres
Established: September 1996
Grand Staircase – Escalante National Monument is a masterpiece of nature's art. From its gigantic size to winsomeness, it is utterly bewildering.
You may also like: Top 14 Tallest Hotels in the US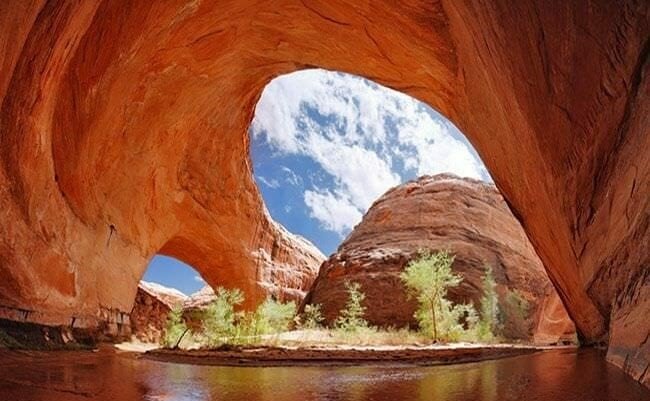 Moreover, this spectacular place serves as an opportunity for many geologists, biologists, archeologists, and scientists to observe it.
Its naturally built staircase is the primary source of attraction. There are about five steps, and each of them has its own story. A famous geologist Clarance Dutton named these stairs:
Pink Cliffs
Grey Cliffs
White Cliffs
Vermilion Cliffs
Chocolate Cliffs
To inhale this charismatic view, hiking on these cliffs is the best. But, for some, it seems pretty harsh. So, the visitors can also enjoy this monument on their 4×4 cars.
Another sizzling aspect of this national monument is the "Discovery of the Dinosaur Fossils." So, it seems like an excellent opportunity for paleontologists to hit this spot. Furthermore, Grand Staircase Escalante is a hub for many animals like Mule Deer, Mountain Lion, Bighorn Sheep, and Cottontail rabbits.
Additionally, this monument has a connection with three other national monuments named Rainbow Bridge, Pipe Spring, and Cedar Breaks. So, visiting this place allows you to see other remarkable sites too.
On the whole, planning to pay a whole day's visit to Grand Staircase Escalante National Monument is a must!
4. Muir Woods National Monument
Location: Mill Valley, CA 94941, US
Area: 554 acres
Established: January 1908
This national monument is one of the most famous and greenish monuments in the US on our list. Muir Woods National Monument stores a great history inside it. This beautiful piece of land was in the custody of William Kent, who then gifted it to the govt. So, eventually, this land stood as the first National Monument, which a citizen presented.
Muir Woods National Monument is known for its coast redwood trees. For centuries these trees have maintained an incredible ecosystem. Their ages range from 400 to 800 years.
This spellbinding scene is enough to take you to the land of peace and calmness. These trees have their language of love and want their visitors to relish the taste of solitude.
Moreover, Muir Woods's gigantic trees offer a pleasant atmosphere throughout the year. The sunrise seems magical, with echoes of birds and mammals. With the aroma of moist sand and butterflies in the air, this forest presents the view of heaven!
Muir Woods National Monument offers hiking and bicycling (Only in the restricted area). Camping isn't allowed. But, wedding occasions can be performed with limitations in Muir Woods.
See also: Top 9 Most Visited Art Museums in the United States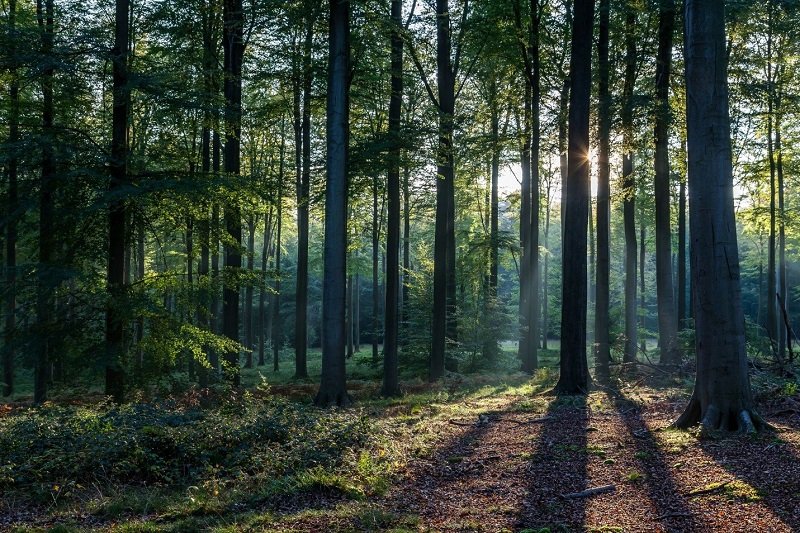 Thousands of visitors season up their souls with Muir Woods's beauty daily. At last, this National Monument stood the fourth on the list of 6 famous US National Monuments.
3. Dinosaur National Monument
Location: 11625 E 1500 S, Jensen, UT 84035, US
Area: 210,000 acres
Established: October 1915
Land Before Time!
Dinosaur National Monument reminds us about the existence of the world's most enormous creatures. Massive weights, gigantic bodies, and the loudest vocals! These giant structured beasts have ruled the earth for millions of years. Therefore, they share a crucial part in the motherland's history.
Humans have always shown a keen interest in learning more about dinosaurs. For this, several paleontologists have worked hard to drag out the buried remains of these mighty beasts. Moreover, the land between Colorado and Utah leads towards this spectacular spot. A paleontologist named Earl Douglas has done a remarkable job by discovering hundreds of fossils from this land. Which is now designated as "Dinosaur National Monument."
This gigantic monument has multiple spots to visit. Its "Quarry Hall" has preserved the fossils and footprints of Dinosaurs. Moreover, the "The Wall of Bones" is where the visitors can touch the bones of Dinosaurs. So, for kids, this place is a must to visit!
Dinosaur National Monument offers plenty of activities like camping, river rafting, hiking, night star-gazing, and many more.
You may also like: Top 9 Largest Clock Faces in the United States
On the whole, this monument is known as the third most famous US National Monument. It's compulsory to plan a trip to this historic and breathtaking spot!
2. Lincoln Memorial
Location: 2 Lincoln Memorial Cir NW, Washington, DC 20002, US
Area: 2,540
Established: May 30, 1922
Lincoln Memorial is the second famous US National Monument. It was built for the man whose thoughts of freedom and dignity changed the American's perception of slavery. His name was Abraham Lincoln, the  American President.
Lincoln Memorial is located in the heart of Washington D.C, on National Mall. It's a place to remember courage, freedom, and equality.
Moreover, the structure of this famous and inspiring place is remarkable. Many designers and architects have added a sizzling taste of their artistry to the interior and exterior of this memorial.
The most exciting historical part of this monument is the gigantic Lincoln statue. It is about 19 feet tall. The marbled Lincoln's throne doesn't depict his power and authority. On the contrary, it shows the hope and struggle of Lincoln to give equal rights to African Americans.
See also: 7 Largest Domes in the United States of America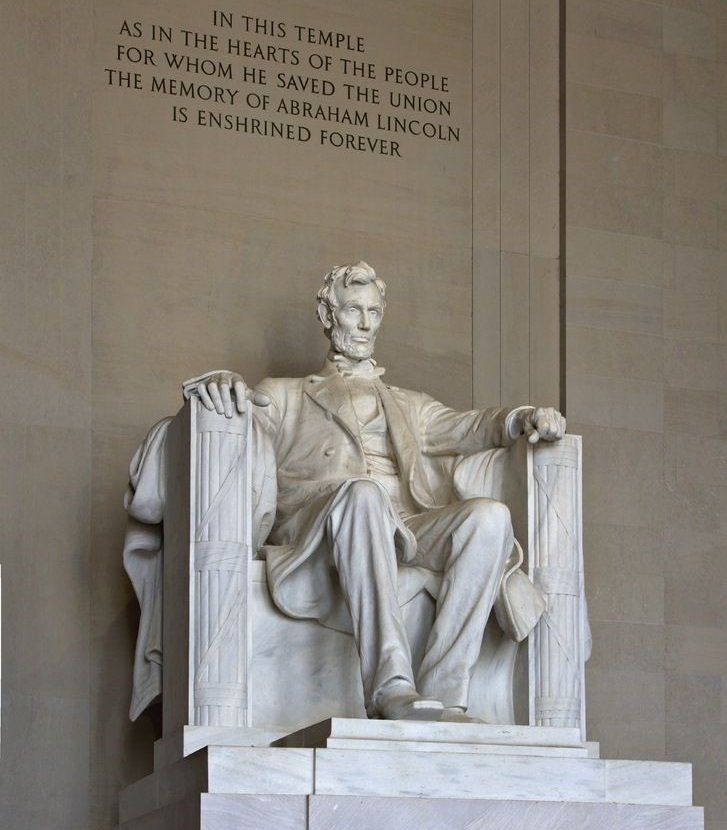 Millions of people visit this distinctly built National Memorial every year. Overall, it's a bit crowded and the most famous US National Monument.
1. Statue of Liberty
Location: New York, NY 10004, US
Height: 305 feet 1 inch
Established: October 28, 1886
The most famous National Monument of the US is "The Statue of Liberty"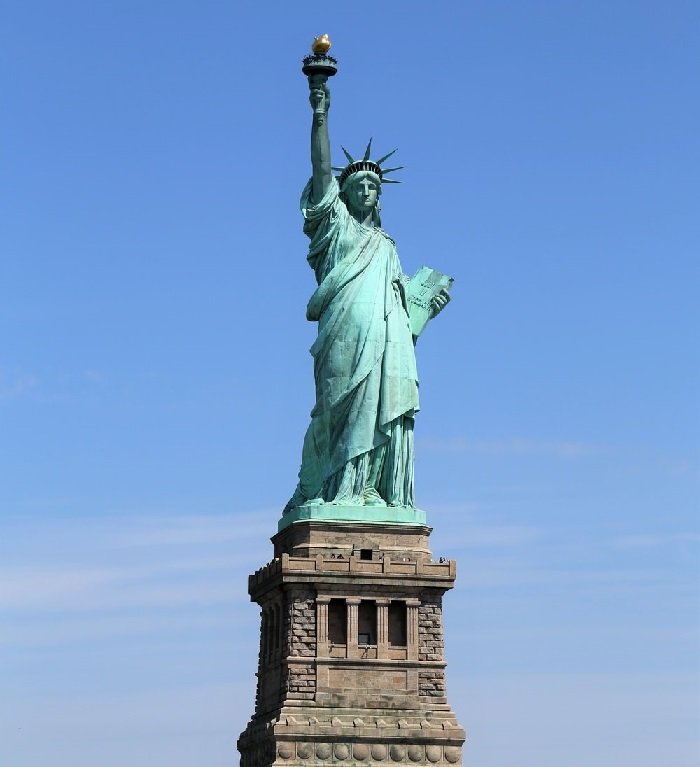 Its construction symbolizes the fundamental right of humanity, which is Freedom! It was initially a gift from France to the USA, representing liberation and equality. The whole construction was done in France and then shipped to the USA. From making to establishing this statue in the 19th century seems unreal. But, this copper-built statue is still holding its place. Even after being struck by lightning and the worst weather every year.
The Statue of Liberty holds a torch and tablet in her hands with the American declaration date. The broken chains on her feet show emancipation from slavery. Overall, the Statue of Liberty standing in the New York Harbor welcomes every man coming to the US.
See also: 7 Largest Dams in the United States by Structure Volume
Every year millions of people come and see this standing goddess of love and freedom.
Final Thoughts
It is a comprehensive and well-researched list of 6 famous US National Monuments. Hope you enjoy reading it!