Richest Person in Each State 2019. Recently Forbes has announced the richest person in every state in 2018. Most of the billionaires and few millionaires have made their place in the list. In some states, there is a tough competition for wearing the crown of the richest person of the state. Six states out of 50 states lack a billionaire.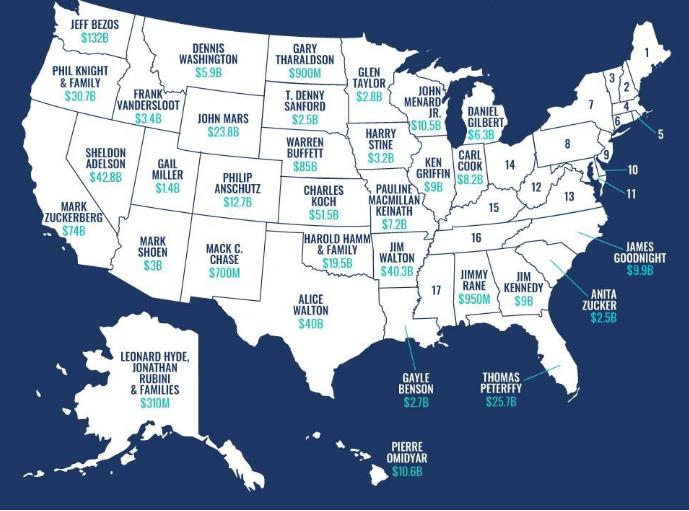 You may also like:
List of Richest person in Each State
Here is the complete list of the richest person in each state. The list compiled alphabetically.
| | | | |
| --- | --- | --- | --- |
| States | Person | Source | Wealth |
| Arizona | Mark Shoen | U-Haul | $3 B |
| Arkansas | Jim Walton | Walmart | $40.3 B |
| California | Mark Zuckerberg | Facebook | $74 B |
| Colorado | Philip Anschutz | Investments | $12.7 B |
| Connecticut | Ray Dalio | hedge funds | $17.4 B |
| Delaware | Robert Gore | Gore-Tex | $750 M |
| Florida | Thomas Peterffy | discount brokerage | $25.7 B |
| Georgia | Jim Kennedy | media | $9 B |
| Hawaii | Pierre Omidyar | eBay | $10.6 B |
| Idaho | Frank VanderSloot | Nutrition & wellness | $3.4 B |
| Illinois | Ken Griffin | Hedge funds | $9 B |
| Indiana | Carl Cook | Medical devices | $8.2 B |
| Iowa | Harry Stine | Agriculture | $3.2B |
| Kansas | `Charles Koch | Koch Industries | $51.5 B |
| Kentucky | Wayne Hughes | Storage | $2.7 B |
| Louisiana | Gayle Benson | New Orleans Saints | $2.7 B |
| Maine | Susan Alfond | Shoes | $1.6 B |
| Maryland | Ted Lerner | Real estate | $5.1 B |
| Massachusetts | Abigail Johnson | Money management | $16.9 B |
| Michigan | Daniel Gilbert | Loans | $6.3 B |
| Minnesota | Glen Taylor | Printing | $2.8 B |
| Mississippi | James & Thomas | Diversified | $1.2 B |
| Missouri | Pauline MacMillan | Cargill | $7.2 B |
| Montana | Dennis Washington | Const. & Mining | $5.9 B |
| Nebraska | Warren Buffett | Berkshire Hathaway | $85 B |
| Nevada | Sheldon | Casinos | $42.8 B |
| New Hampshire | Andrea Reimann | Consumer goods | $1.1 B |
| New Jersey | John Overdeck | hedge funds | $5.5 B |
| New Mexico | Mack Chase | Oil | $700 M |
| New York | David Koch | Koch Industries | $51.5 B |
| North Carolina | James Goodnight | Software | $9.9 B |
| North Dakota | Gary Tharaldson | Hotels | $900 M |
| Ohio | Les Wexner | Retail | $5.4 B |
| Oklahoma | Harold Hamm | Oil & Gas | $19.5 B |
| Oregon | Phil Knight | Nike | $30.7 B |
| Pennsylvania | Victoria Mars | Cany & Pet Food | $6 B |
| Rhode Island | Jonathan Nelson | Private equity | $1.8 B |
| South Carolina | Anita Zucker | Chemicals | $2.5 B |
| South Dakota | Denny Sanford | Banking | $2.5 B |
| Tennessee | Thomas First Jr | Hospitals | $9.7 B |
| Texas | Alice Walton | Walmart | $40 B |
| Utah | Gail Miller | Car Dealers | $ 1.4 B |
| Vermont | John Abele | Healthcare | $630 M |
| Washington | Jeff Bezos | Amazon | $132 B |
| West Virginia | Jim Justice | Coal | $1.9 B |
| Wisconsin | John Menard Jr | Home improvement | $10.5 B |
| Wyoming | John Mars | Candy & pet food | $23.8 B |
You may also like: